Meet Our Resident ~ Mary (AgeCare Orchard Manor)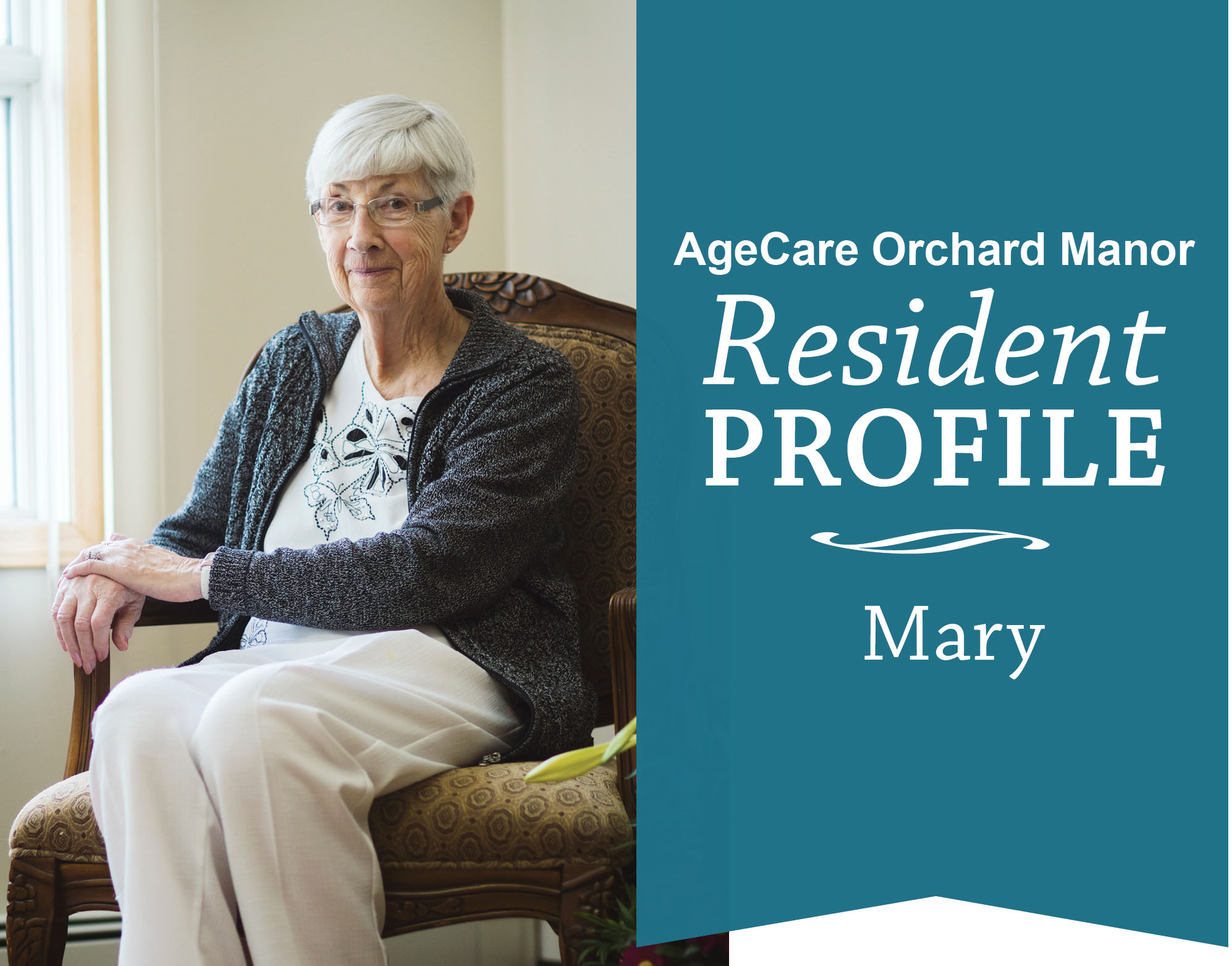 Meet one of AgeCare Orchard Manors' long-time residents. Mary may be 90 years old, but she still recalls the carefree hopscotch days of her youth, growing up in sunny Three Hills, Alberta.
"I really liked skipping – I even won the Double Dutch skipping contest one year," she told AgeCare Orchard Manor's Retirement Living Consultant, Carol Gilhooley. Mary recounts many tales from her cheerful small-town childhood as the youngest of three with a father who was a telephone operator and a mother who devoted her time to caring for the home and family.
In her teens, Mary played basketball and volleyball and hockey; she loved to attend the community dances. She chuckles when she tells the story of the time she was dancing with a boy who didn't believe her name was Mary Smith… "He said, okay then don't tell me your real name!" Her parents, she says, had a good sense of humour!
After finishing high school Mary, completed six months of teacher training, including a two-month stint in Edmonton and one also in Seattle.
After a few years of teaching in a small one-room country school, Mary met and married her sweetheart Bill. Bill was a farmer working on his family farm near Brooks, Alberta. Their son continues to own and operates the farm today.
They had a small farm house. "Every year we would add a room to our house for our growing family," said Mary, sharing that the couple was blessed to welcome three daughters and two sons. The best room came when her in-laws suggested they add an indoor washroom to their home. "I was overwhelmed with a toilet, tub, and shower! I have no idea how I ever did without it!" she quips.
Mary and Bill's life was a happy one, filled with love, joyful family times and plenty of card games. When Bill passed away in 1999, Mary stayed on their farm property where there were many happy memories and far too many acres of grass to look after. "One day I was mowing the lawn – which took me five hours to do – and I thought to myself, I don't want to do this anymore!"
She had heard about AgeCare Orchard Manor and decided to go and see what it was all about. The sound of never having to mow the grass, cook a meal or clean house again hit the spot for Mary; she made a life-changing decision to retire to the vibrant little community retirement community and has never looked back!
"I have been happily living at Orchard Manor for 16 years," she said. "I like all the activities and the special events. "And all the great people that make up our family here.
When asked if she has any advice for others, Mary didn't hesitate… "Keep a positive attitude!"