Stage 3 in Alberta's Continuing Care Homes
On June 30th, our AgeCare communities will enter Stage 3 in the ongoing management of COVID-19. Prioritizing resident safety alongside their quality of life experience remains a top priority which is why some key measures, such as continuous masking, will remain in place.
We are pleased to share that with these changes outlined below, we will no longer need the guides created for visiting and outings/overnight stays in Alberta. We hope you found them a helpful resource!
What will be Different
The following COVID-19 measures will be lifted as part of Step 3 of Alberta's path to return to normal:
Closing of Screening Stations
As of Thursday, June 30th, there will no longer be screening stations at the entrances to our buildings.
Anyone entering the building, including visitors, will no longer be actively screened or required to share their vaccination status or rapid antigen test result.
We continue to ask individuals to stay home if they have any symptoms, even if they are mild or are fully vaccinated.
Rapid Antigen Screening Clinics
The Rapid Antigen Screening Program for staff and visitors will be coming to a close on June 30th.
AgeCare will continue to use our on-hand supplies to offer asymptomatic staff an opportunity to be rapid tested before their shift. These test kits were provided to continuing care homes by the Alberta Government. Once we have depleted our inventory, the staff clinics will conclude.
Enhanced Cleaning
Enhanced cleaning, including high-touch areas, will return to pre-pandemic cleaning schedules. If an outbreak is declared, enhanced cleaning may be reinstated.
Resident Outings/ Overnight Stays
Residents returning from an absence will no longer be required to be actively screened for 10 days.
Residents returning from an absence will no longer be required to mask upon return.
Resident Admissions/ Return from Hospital
Quarantine for residents or new admissions upon return from other health settings is no longer required.
Pet Visits
Visitors can bring one pet that is house trained, well-behaved, leashed and shows no signs of illness. They must continue to follow our Pet Policy. However, they no longer need to be booked in advance or reside in a fully vaccinated household.
What Will Remain the Same
When in an active outbreak, many of our protocols will remain the same to prevent the spread of the virus within our communities. In addition, the following preventive measures remain in place.
Continuous Masking:
Staff, students, volunteers, service providers, and visiting persons must continue to wear masks.
Medical masks must be worn in all indoor areas, including the resident room. If you do not have a medical mask, one will be provided.
Residents and children ages 2 and younger are not required to wear masks.
Exceptions to masking may be made if a significant communication barrier is present. Please speak to your care or leadership team before your visit to discuss this.
Masking is one of the most effective public health measures that can be used to protect ourselves and the people around us. There is a strong body of evidence to support the critical protection masking provides.
The Alberta Government will review this important preventive measure again in September 2022.
Testing & Isolation:
If any resident displays symptoms, they will be placed on contact and droplet isolation, a swab will be taken, and the resident's family will be notified

Residents and staff remain a priority group for PCR lab testing for COVID-19.

10-day isolation period for COVID-positive residents.

If the resident can tolerate masking continuously, they may isolate for 5 days, with an additional 5 days of masking outside their room. During this time, they may not eat in the dining room or participate in group activities.
Personal Protective Equipment & Rapid Antigen Screening
Staff continue to self-screen for symptoms. Symptomatic staff must still contact their supervisor if they have any symptoms, even if mild or if fully vaccinated.
Staff will continue to practice physical distancing and wear Personal Protective Equipment (PPE), following the guidance from AHS, the MOH and AgeCare.
Visitor Sign-In/Out
Visitors will continue to sign in/out on the visitor log.
Dining with Residents
Visitors can bring gifts and/or food for their loved ones. However, they may not eat in the residents' dining room as this would require them to remove your mask.
Visitors may dine in their suite if the resident has a private suite and physical distancing can be maintained.
A private space/ family room in the community may be booked if the resident has a shared, semi-private suite or requires more space to physically distance.
Shout Out to our Screeners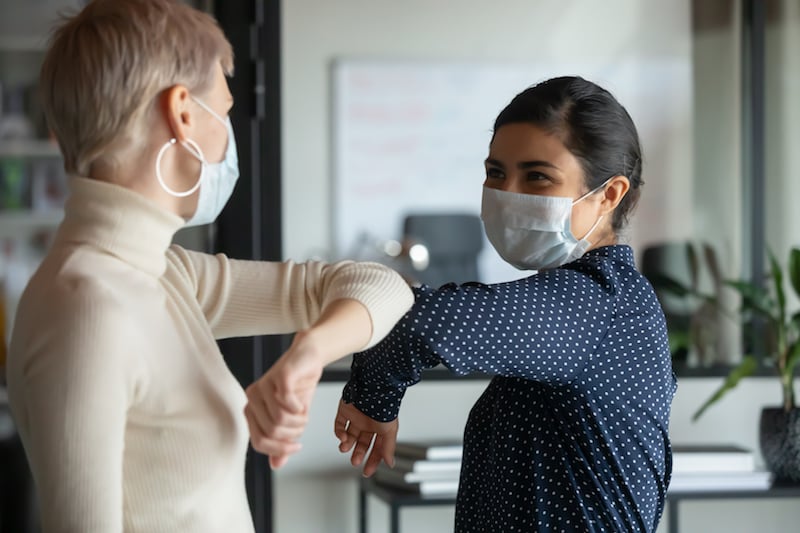 We wish to thank our greeters and screeners who committed countless hours ensuring those coming and going from our communities were screened. You were the first line of defence and played a vital role in keeping our residents, staff and families safe. Thank you so much!