Dear Residents and Families,
We remain committed to providing updates to our residents, families, and staff at AgeCare Harmony Court. As such, we are providing weekly updates to keep you all informed on what is happening at our communities and organization-wide. This weekly update includes:
Thanksgiving Message – A reminder of public health rules and how to stay safe this weekend.
Visitation Guidelines – Guidelines regarding visitation.
Recreation & Activities - An update on our recreation and activities as the need to stay active, intellectually stimulated, and socially connected never ends.
Weekly Shout-Out – A weekly shout-out to all of our staff at AgeCare.
Sincerely,
The Leadership Team at AgeCare Harmony Court
Thanksgiving Message
As we head into Thanksgiving Weekend, we wanted to remind everyone that gatherings – especially with people outside of your immediate family, could put you at risk for COVID-19. As cases continue to grow throughout the province, we must still take steps to keep ourselves and our loved ones safe.
Here is some guidance and tips for you and your loved ones so that you can have a happy and healthy long weekend.
Staying Safe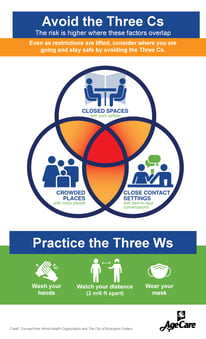 #1 Avoid the Three Cs to Reduce the Risk
Did you know three factors can increase the risk of COVID-19? Your risk further increases when any of these three Cs overlap. To stay safe, you should avoid:
Closed spaces with poor ventilation

Crowded places

Close contact situations


#2 Practice the Three Ws to Stay Safe
Small adjustments practiced regularly can make a big impact. By making the three Ws part of your routine throughout the day, you can help to keep yourself and those around you safe:
Wash your hands frequently and for a minimum of 20 seconds

Watch your distance (2 meters/6 feet apart) from others outside of your household/building

Wear your mask when in public, especially when physical distancing can't be maintained.
The safety of our residents and staff remains our top priority.
Residents who leave their community are expected to adhere to all
Visitation Guidelines
Please note – communities on outbreak may have different visitation restrictions in effect. Contact your community or sign up for email updates to stay informed on the latest information.
Visits no longer need to be booked ahead of time. All visitors will continue to be screened upon entry to the building. If your visit occurs outside of reception hours, please submit your screening documents to the nursing station.
Fully Immunized
Must wear a medical mask in all indoor public/common areas, including to and from the resident's room.
Can remove mask while visiting the resident in their suite.
Not Immunized or Partially Immunized
Must wear a medical mask at all times, including visiting with the resident in their suite or indoor public/common areas.
During your visit, it is STRONGLY recommended that visitors:
Wear a mask when visiting, including in a resident's suite.
Be fully vaccinated with two doses (the second dose received a minimum of two weeks prior).
During your visit, visitors are required to:
Wear a medical mask when in common areas or while travelling around the building.
Maintain physical distancing while in groups.
Practice proper hand hygiene frequently.
Whenever possible, residents residing in shared suites-(semi-private), visits should occur in a designated area or outside. If the visit occurs in a shared suite, the number of visitors may be limited to maintain physical distance from the other residents.
Continue to self-screen for COVID-19 after your visit. Notify AgeCare if any symptoms arise within 14 days of the visit.
Location:
Visits can occur in the resident's suite, designated areas, or outside.
Residents residing in shared suites-(semi-private):

Only visitors for one resident can be in the room at any one time;
Visits for each resident must be staggered in the multi-resident room.
When entering, visitors must be screened and follow ALL safe visiting practices and COVID-19 protocols.

Harmony Court
Time:
To allow for screening, visiting hours are:

Monday through Sunday
9:30 am to 12:00 pm, 1:30 pm to 5:00 pm, and 6:30 pm to 8:00 pm

Estate Visitation Guidelines
There are no additional requirements or restrictions around Estate visitation. We ask that all visitors continue to follow all public health guidance.

Virtual Visits:
We are encouraging in-person visitation when possible. Virtual Visits will still be available, but we ask that they be reserved for those who cannot visit in person. To book a virtual visit and window visits with your loved one, contact hcrecreation@agecare.ca or (604) 527-3328 between 9:30 am to 3:30 pm, Monday to Friday.



Please check with your community for full visitation guidelines. Communities on outbreak may have different visitation restrictions in effect. Contact your community or sign up for email updates to stay informed on the latest information.

Recreation & Activities

Our recreation team is working hard to create engaging activities that enrich the mind, body and spirit. We are continuously looking for ways to reduce the risk of transmission while having the least impact on resident well-being.

PLEASE NOTE: At this time, visitors are not permitted to attend indoor recreations programming, including concerts. Thank you for your understanding.

Check out our September Calendars!
Weekly Shout Out, to all of our staff at AgeCare
Thanksgiving is an excellent opportunity to take a moment and recognize those around us who make a positive difference in our lives. We want to take this moment and thank our incredible staff.
Thank you to our AgeCare staff for the dedication and energy you bring to work every day – even in these challenging times – while continuing to provide high-quality care and services to our residents.
We want each of you to know how much we appreciate you and your unrelenting efforts in ensuring the safety, quality and security of all our residents within our AgeCare family.
This Thanksgiving, we are grateful for you.