Dear Residents and Families,
We remain committed to providing updates to our residents, families, and staff at AgeCare. As such, we are providing weekly updates to keep you all informed on what is happening at our communities and organization-wide.
COVID-19 Variants – Information from AgeCare Skypointe's medical director Dr. Simon Dawes
Supporter Spotlight – We are excited to showcase our incredible supporters who help make AgeCare great
Visitation Guidelines – How to stay safe while visiting with your loved ones.
Recreation Calendars - We know the need to stay active, intellectually stimulated, and socially connected never ends.
Weekly Shout-Out - Sharing words of gratitude messages from residents and families to our staff.
We hope these weekly updates helpful. Thank you all for your continued support.
COVID-19 Variants
A message from Dr. Simon Dawes, AgeCare SkyPointe Medical Director
There is news recently about "Variants" of the coronavirus and what this means.
We know that coronavirus, like many viruses, mutates frequently. This is how they randomly develop the ability to infect people and can suddenly become more infectious or more deadly.
Coronaviruses mutate frequently, and there are now almost countless COVID variants that are being followed. Some variants are more concerning because they are more easily spread than others. Over time these variants become dominant in some communities - i.e., the "UK variant". It is possible that a variant may be more deadly, and if it spreads more easily then it is always going to be more dangerous.
What's relevant to us is that we think people can be re-infected by variants even after they have caught a different strain of coronavirus. We are cautiously optimistic as it seems at this point that your immune system will fight the new infection much more than if you had never had COVID. You are also quite likely to be protected against variants if you have had the vaccine - the reasons why are complex and technical, but the important thing to know is that there is no certainty about this.
The bottom line is that it's very likely we will see a spread of these variants in our communities as well. We all need to be very careful until more is known about how well the vaccines fight these variants.
Supporter Spotlight – Project Joy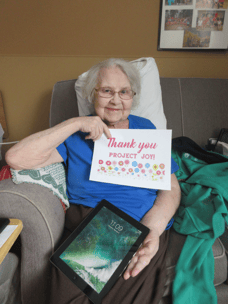 Recently AgeCare was the recipient of an incredible donation from Project Joy. Project Joy is an organization dedicated to collecting technology and devices and distributing them to senior facilities.
Throughout this pandemic, the need to connect virtually has become a necessity, and our communities have felt that more than anyone. By providing additional iPads and, in some cases, phones to our communities, Project Joy allowed our residents to continue to be a part of their friends' and families' lives. For the gift of accessibility and connection, we are truly grateful.
Thank you!
Visitation Guidelines
Earlier this month, the Government of Alberta announced changes to the public health measures. Included in those changes were that small outdoor gatherings would be allowed again. We would like to take this opportunity to remind you about how you can safely share an outdoor visit, outing, or community walk with a resident.

As with all community visits, visitors must understand the risk of unknown exposure to COVID-19 for themselves and residents and asses health before visits.

By following guidelines, as well as practicing proper hand hygiene, wearing a mask, and social distancing, you can help protect your loved ones during your visit.

Remember,

While we are all excited about the lifting of certain restrictions, consider what is best for yourself and your loved one. Cold weather brings risks like slipping on ice, joint pain and general malaise from the elements. Bundling up to go outside can be both exhausting and time-consuming so please continue to consider a virtual visit.

Download our Community Walks/Outings, Indoor, and Outdoor Visit Guides (PDFs) for all the details to ensure a safe visit.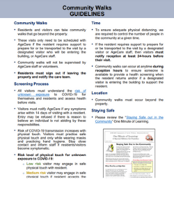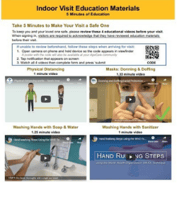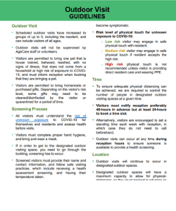 Recreation Programming
Our recreation team is working hard to create engaging activities that enrich the mind, body and spirit. We are continuously looking for ways to reduce the risk of transmission while having the least impact on resident well-being.
At this time, recreation activities will be held in individual neighbourhoods where possible and in larger spaces. This is to ensure that all participants can maintain physical-distancing.
View the February Recreation Calendar for your AgeCare Community:
AgeCare Orchard Manor – Feb 2021
AgeCare Sunrise Garden – Feb 2021
Weekly Shout-Out
These challenging times have allowed us the opportunity to reach out to many of our families to provide updates on their loved ones and our communities. Many have expressed gratitude and support for our amazing staff, and for that kindness, we thank you.
Here are just a few of the kind words that have been shared:
"Thank you for taking the time to listen. I know everyone is busy these days, but I appreciate you taking the extra time for me."

"You guys are doing a very good job. Thank you, I appreciate that."