Dear Residents and Families,
We remain committed to providing updates to our residents, families, and staff at AgeCare. As such, we are providing weekly updates to keep you all informed on what is happening at our communities and organization-wide.
This weekly update includes:
Vaccination Update – Second doses for our LTC residents and new information from the BC. Government.
Post-Vaccination Safety – Why we need to continue following public health guidelines.
COVID-19 Variants – Information from AgeCare Sagewood's Medical Director, Dr. Florence Obianyor
Recreation & Activities - An update on our return to safe recreation and activities as the need to stay active, intellectually stimulated, and socially connected never ends.
Weekly Shout Out - Sharing good news stories and gratitude for our residents, staff and community.
Thank you all for your continued support.
Sincerely,
Cindy Kahlon,
Administrator
Harmony Court Estate & Care Centre
Vaccination Update
We are so proud to share that the majority of our long-term care resi
dents have been fully vaccinated with two doses!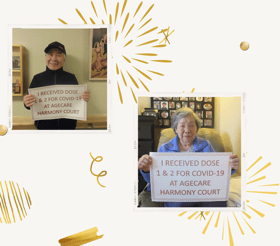 This week the Government of BC announced that Phase 2 of the COVID-19 vaccine roll-out plan would be launching in early March.
Phase 2 would make vaccination appointments available to:
Seniors aged 80 and over who are not immunized in Phase 1
Indigenous (First Nations, Métis and Inuit) seniors age 65 and over, Elders and additional Indigenous communities not immunized in Phase 1
Hospital staff, community general practitioners (GPs) and medical specialists not immunized in Phase 1
Vulnerable populations living and working in select congregated settings
Staff in community home support and nursing services for seniors
As more details become available, we will update you.
Click here for more information about the vaccination roll-out plan and phases.
Post-Vaccination Safety
As we approach the one-year anniversary of living with COVID-19, it is understandable that many people may feel exhausted from following the rules and worrying about the well-being of their friends and family. It's no surprise that families are eager to return to "normal" when visiting with their loved ones now that most of our continuing care residents have received their two vaccine doses.
We want to take this opportunity to clarify why we can't return to how life was pre-pandemic just yet.
The vaccine is not 100% effective. Unfortunately, we have seen in practice fully vaccinated people become infected with COVID-19. While this number is small, we cannot ignore that our residents remain the most at risk for poor outcomes should they contract COVID-19.
It is unknown if a vaccinated person can still transmit COVID-19. Because both the vaccine and the virus are new, data is still being collected around how long the vaccine lasts and how it impacts spread. As of now, there is no data to show that a vaccinated person cannot still be a carrier. This means you and your loved ones who are not vaccinated could get sick.
Effectiveness on variant strains.

While early studies indicate that the current vaccine is effective against the three major known variants, there is still more information that needs to be confirmed. It simply is not worth the risk to assume the vaccine will protect against known and potential unknown variants.
While these are the major concerns around relaxing your behaviour while visiting your loved ones, there are a variety of others not covered here. With so many unknowns, we must continue to be vigilant and mindful in our fight against COVID-19.

As the vaccination roll-out moves forward and more people become vaccinated, we hope to see provincial case counts continue to drop. It is only as our vaccination numbers increase and our case count decreases that we can look forward to loosening of restrictions. Until then, we ask that families continue to follow the provincial restrictions and public health measures.


COVID-19 Variants
A message from Dr. Florence Obianyor, Medical Director, AgeCare Sagewood

According to the Centers for Disease Control (CDC) and the World Health Organization (WHO), variants of the SARS-Cov-2 (the virus that causes COVID-19 ) emerged in fall 2020 and are of global concern. Alberta Health has recently announced that all provincial laboratories are already testing for the COVID-19 variants.

The three common variants at this time are:

1. The UK variant (B.1.1.7.)
2. The South African variant (B.1.351)
3. The Brazil variant (P.1)

We know that coronavirus, like many viruses, changes frequently. This is how it randomly develops the ability to infect people and can suddenly become more infectious or more dangerous.

The UK variant has been detected in many countries, including Canada and the USA. This variant is concerning as it is more transmissible, which makes it more likely to have severe outcomes.

The South African and Brazil variants do not appear to have as many severe outcomes, but there are still many unknowns around these variants.

The main concern is that the vaccine might not be as effective or effective for these variants. We are cautiously optimistic that this is not the case, but given how easily these strains can spread, we must continue to act cautiously.

As we continue to navigate these unknowns, we ask that everyone continues to wear masks, practice good hand hygiene, social distance and follow all public health guidelines
Recreation & Activities
Our recreation team is working hard to create engaging activities that enrich the mind, body and spirit. We are taking a measured, phased approach to recreation activities. Each week we will be reassessing how these are going and make any adjustments that may be required.
In both Harmony Court Estate (Independent Living) and the Care Centre (Long Term Care), we are cohorting residents into groups. They may enjoy the activities with the same residents each time. All cohort recreation programs will involve no touching of each other or shared objects.
During all interactions, staff continue to practice exceptional hand hygiene, wear Personal Protection Equipment (PPE), and are using extreme diligence in enhanced cleaning and disinfecting procedures.
Download the Care Centre Weekly Programs:
Download the Estate Activity Calendar:
Weekly Shout-Out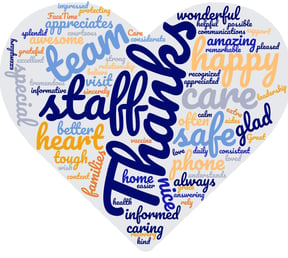 We know (and see) how essential virtual visits have been in helping residents, families, and friends connected. This has been an especially important program when a site was in an active outbreak.

"We literally see residents light up when the iPad is brought into the room and they see their loved ones on the other side of the screen."

Since launching this program in March 2020, staff have helped families and friends from all over the world visit with residents. Thank you to our recreation team (and all other team members) who help make these visits happen.