Dear Residents and Families,
We remain committed to providing updates to our residents, families, and staff at AgeCare. As such, we are providing weekly updates to keep you all informed on what is happening at our communities and organization-wide.
Rapid Testing – Update on the rollout of rapid testing at our AgeCare communities.
Vaccination Celebration – Update on the vaccination of our residents.
Visitation Guidelines – How designated family/support persons can book and visit with their loved one safely.
Recreation Calendars - We know the need to stay active, intellectually stimulated, and socially connected never ends.
Weekly Shout-Out – A special thanks to teams helping keep families connected.
We hope these weekly updates helpful. Thank you all for your continued support.
Sincerely,
AgeCare Communications
Rapid Testing of Staff
Last week we shared that the Alberta government announced it was expanding its rapid testing program to include asymptomatic staff at continuing care facilities. We now know that AgeCare has been selected as an early adopter of this program, and rapid testing will be coming to our communities in the next couple of weeks.

What does this mean?

The Government of Alberta is mandating that all continuing care communities not in COVID-19 Outbreak offer this new program. This screening test for COVID-19 is for staff with no signs of illness. The intent is to detect COVID-19 sooner and to hopefully limit the spread of this infection.

Once a week all staff will be offered a rapid test prior to starting work. Unlike regular COVID-19 tests, rapid tests only take 15 minutes for the results to display. Any staff who tests positive from a rapid test will be required to immediately self-isolate and will be sent for a standard test to confirm.

Each of our communities is developing a plan on how to best implement this at their site. We believe rapid testing will help identify asymptomatic carriers faster than ever. This will lead to less exposure for everyone, which is a critical step on our path back to normal.
Vaccination Celebration
We are so proud to share that the majority of our continuing care residents have been fully vaccinated with two doses. To celebrate this incredible milestone, we wanted to share some heartwarming photos from our communities taken during the vaccination clinics.
With global shortages beginning to decrease, we know we are on track to having all of our residents and staff immunized in the coming months.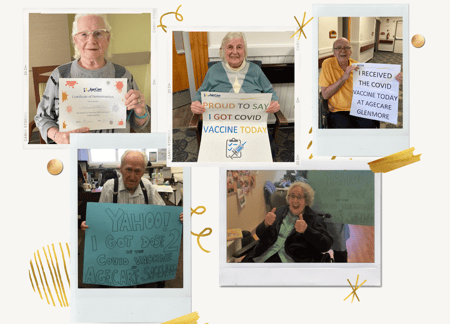 Community Walks/Outings, Indoor, and Outdoor Visit Guides
As vaccinations across communities rollout, there may be a temptation to relax your behaviour when visiting a family member. You and your loved ones are still at risk if proper visitation guidelines are not followed. We are on the right path and need to stay committed to following visitation rules for the next several months.
Download our Community Walks/Outings, Indoor, and Outdoor Visit Guides (PDFs) for details and booking hours to ensure a safe and stress-free visit.
Booking your Indoor Visit
Designated family/support persons must book their visit in advance by calling your AgeCare Community booking phone number.
| | | |
| --- | --- | --- |
| AgeCare Community | Booking Phone Number | Indoor Visit Hours |
| Columbia | 403-320-9363 | Daily, 10 am – 4 pm |
| Glenmore | 403-253-8806 | Daily, 10 am – 7 pm |
| Midnapore | 403-519-9397 | Daily, 10 am – 7 pm |
| Orchard Manor | 403-362 -6188 | Daily, 10 am – 4 pm |
| Sagewood | 403-361-8000 | Daily, 10 am – 7 pm |
| Seton | 587-391-4606 | Daily, 10 am – 7 pm |
| SkyPointe | 587-619-6363 | Daily, 10 am – 7 pm |
| Sunrise Gardens | 403-794-2105 | Daily, 10 am – 4 pm |
| Valleyview | 403-526-7000 | Daily, 10 am – 4 pm |
| Walden Heights | 403-873-4713 | Daily, 10 am – 6 pm |
Virtual Visits
To ensure residents and family can stay connected, we continue to offer scheduled virtual visits. Residents and families can book one virtual technology session per week. All virtual visits will continue as long as the site is staffed appropriately and care needs are met.
Check out this week's shout-out on our virtual visits below.
To book a virtual visit, contact your AgeCare community:
AgeCare Community

Phone Number

Email

Columbia

403-320-9363 ext. 511

Glenmore

403-253-8806

Midnapore

Long Term Care
403-873-2612

Retirement Living
403-873-2828

Orchard Manor

403-362 -6188

Sagewood

403-361-8003

Seton

-

SkyPointe

587-619-6317

Sunrise Gardens

403-794-2105

Valleyview

-

Walden Heights

587-349-6055
Recreation Programming
Our recreation team is working hard to create engaging activities that enrich the mind, body and spirit while reducing the risk of transmission and having the least impact on resident well-being.
At this time, recreation activities will be held in individual neighbourhoods where possible and in larger spaces. This is to ensure that all participants can maintain physical-distancing.
View the February Recreation Calendar for your AgeCare Community:
Weekly Shout Out
During some of the most challenging months of wave two of the pandemic, our Social Work team stepped up to assist the care team in communication with families. While sites were in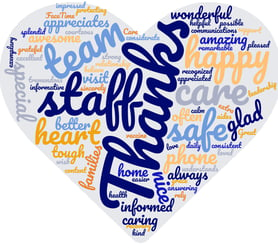 an outbreak, social workers began calling residents' designated family members to update family members on how their loved ones were doing and answer any questions they may have had.

"Our family sure appreciates your calls."

"Thanks for [the phone call], and thanks for all that you do."

We have heard from many family members how important these calls were to them - keeping them informed and providing some peace of mind. So, thank you to the Social Work team for representing your AgeCare communities so well and for your genuine care for all our residents and families