Dear Residents and Families,
We remain committed to providing updates to our residents, families, and staff at AgeCare. As such, we are providing weekly updates to keep you all informed on what is happening at our communities and organization-wide.
Visitation Update – A review of new visitation guidelines coming into effect on October 22nd.
Visitation, Outings, Overnight Stays, and Screening – Guidelines for a safe visit.
Recreation Calendars - Staying active, intellectually stimulated, and socially connected.
Weekly Shout-Out – Celebrate the great work and activities happening at our AgeCare communities.
We hope these weekly updates are helpful. Thank you all for your continued support.
Sincerely,
AgeCare Communications
Visitation Update
Starting today, October 22, AgeCare will be implementing our new visitor guidelines. Download the new guides to learn more:
These guidelines align with other care providers in the province and, in keeping with AgeCare's approach to person centred-care, they were developed in consultation with the resident and family councils.
Exceptions related to compassionate care such as end-of-life care will be considered individually, with additional preventative measures required to support visits.

At this time, we ask that visitors have either a photo of their vaccination status (on their phone) or a paper copy. Please do not rely only on the recently released QR codes for verification, as not all of our communities have the technology needed to scan these.
*NEW*

Mandatory Masking & Quarantine, effective October 25th
As announced this week by Alberta Health, starting on October 25th, all visitors must wear masks in all indoor areas of all continuing care facilities, including while in residents' rooms. Masking is mandatory for all visitors regardless of vaccination status. Residents are not required to be masked at this time.
The only exception to this mandatory masking measure will be in cases where there are communication challenges with residents who may be hard of hearing or have dementia. Please talk to your care team before your visit for more information.
In addition, all residents who are transferring to a continuing care facility from hospital or returning from a hospital stay longer than 24 hours must stay in quarantine until they test negative for COVID-19. A PCR test must be used, with testing conducted by Alberta Health Services.
Rapid Antigen Screening
While all unvaccinated and partially vaccinated Designated Family/Support Persons MUST RAS test before a visit (as of October 22nd), we continue to encourage ALL visitors, regardless of their vaccination status, to participate in RAS testing. Fully vaccinated people with no symptoms can test positive for COVID-19. A rapid test means protecting your family, friends, co-workers and community from the asymptomatic spread.
Rapid Antigen Screening (RAS) can be done before your visit during RAS clinic hours.
Remember:
You MUST be asymptomatic to receive a RAS test.

If you have ANY symptoms, you CANNOT visit or come on-site. You must book a lab test through AHS. Learn more
Documentation WILL NOT be provided to prove a negative result. You cannot use a negative RAS test from our communities to participate in the restriction exemption program.
Visitation, Outings, Overnight Stays, and Screening
Visitation
Please note – communities on outbreak may have different visitation restrictions in effect. Contact your community or sign up for email updates to stay informed on the latest information.
Visits no longer need to be booked ahead of time. All visitors will continue to be screened upon entry to the building. If your visit occurs outside of reception hours, please submit your screening documents to the nursing station. In addition, starting October 25th, all visitors must wear masks in all indoor areas of all continuing care facilities, including while in residents' rooms. Masking is mandatory for all visitors regardless of vaccination status.
During your visit, visitors are required to:
Wear a medical mask when in common areas or while travelling around the building.
Maintain physical distancing while in groups.
Practice proper hand hygiene frequently.
Whenever possible, residents residing in shared suites-(semi-private), visits should occur in a designated area or outside. If the visit occurs in a shared suite, the number of visitors may be limited to maintain physical distance from the other residents.
Continue to self-screen for COVID-19 after your visit. Notify AgeCare if any symptoms arise within 14 days of the visit.
Resident Outings, Overnight Stays and Screening
Residents can engage in any activity off-site as they would pre-pandemic. This includes public outings, overnight stays and more. Residents are also no longer required to be screened upon re-entry to the building or required to quarantine if they have gone off-site.
We encourage everyone to continue to follow all public health guidance while off-site.
Recreation Programming
Our recreation team is working hard to create engaging activities that enrich the mind, body and spirit. We are continuously looking for ways to reduce the risk of transmission while having the least impact on resident well-being.
Weekly Shout Out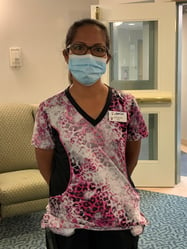 We are so proud that many AgeCare staff stay with us for years; it's truly a testament to their commitment to residents and the communities they work in. This week we're shouting out one such rockstar, meet Health Care Aide Jocelyn!
Jocelyn celebrated her five-year anniversary at AgeCare Columbia this past August. She's known for going above and beyond to help residents and her co-workers. She is a dream team member and an incredible presence in our community. Thank you, Jocelyn, for all your hard work – we are so lucky to have you as part of our AgeCare family!