Dear Residents and Families,
We remain committed to providing updates to our residents, families, and staff at AgeCare. As such, we are providing weekly updates to keep you all informed on what is happening at our communities and organization-wide.
Rapid Antigen Screening for Visitors – COVID-19 Rapid Screening is now available to all visitors.
COVID-19 Vaccine and After Care – What to expect and information around the COVID-19 Vaccines.
Seniors Financial Assistance Programs – The Alberta Government has launched a new online portal for resources.
Visitation Guidelines – How to stay safe while visiting with your loved ones.
Recreation Calendars - Staying active, intellectually stimulated, and socially connected.
The Alberta Continuing Care Association – A message about COVID-19 safety.
Weekly Shout-Out – Celebrate the great work and activities happening at our AgeCare communities.
We hope these weekly updates helpful. Thank you all for your continued support.
Sincerely,
AgeCare Communications
Rapid Antigen Screening for Visitors
Earlier this week, the Government of Alberta announced a loosening of restrictions for continuing care facilities. These changes will go into effect on May, 10th, 2021.
With the safety of our residents and staff in mind, we are pleased to expand the use of our Rapid Antigen Screening (RAS) program from staff only to now include any visitors to our communities.
As this program begins to roll out, we wanted to answer some questions we've been hearing from you.
Q: Who will qualify for RAS screening?
A: RAS is for the resident-designated family/support persons, which can be their legal guardians, family members, friends, companions, and formal or informal caregivers. The goal of rapid screening is to detect asymptomatic COVID-19 positive individuals as early as possible. In short, RAS is available to anyone entering our communities.
Q: Is RAS required to visit my loved one?
A: Being screened is not required by is strongly encouraged. It is the surest way to prevent COVID-19 from entering our communities. Should a COVID positive visitor enter and transmit the virus, the community would likely be put on outbreak.
Q: How long does this take? Will I have to wait for my results before my visit?
A: The screening takes about 15 min but depending on the screening kit at your site, swabs may be batched together and then processed. This would result in a slightly longer window to receive your results.
You do not have to wait in the swabbing clinic for your result. You may proceed with your visit. DFSPs must continue to use all required safety precautions, including appropriate Personal Protective Equipment (PPE) and physical distancing.
If your RAS result is positive, a member of the care team will contact you to discuss your result and the next steps.
Q: I've had a PCR nasal swab, and it was very uncomfortable. How is this swab different?
A: The RAS nasal swabs are less invasive and uncomfortable for the individual being screened than a standard PCR swab. Depending on the test kit at your site, the nasal swab will be inserted 2 to 2.5 cms compared to a lab test that is inserted roughly 4 cms.
Q: Where will the screening occur?
A: Screening clinics will be held in a designated space as chosen by your site. You will be directed to the RAS clinic when you arrive.
Q: When is screening available?
A: Each community has its own times that the RAS runs (see graphic below). This is because the screening requires a specially trained staff member to administer the tests.

COVID-19 Vaccine and After Care
Alberta Health Services has created an informative video around what to expect when booking and receiving your vaccine as well as aftercare. Check it out!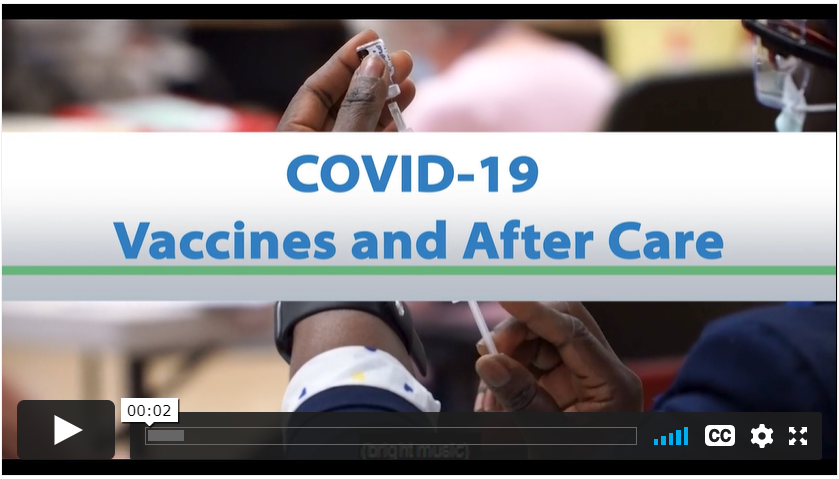 Seniors Financial Assistance Programs
The Alberta Government has created an online portal for quick access to senior's financial assistance programs. From this online hub, you can learn about and apply to programs, update your information and stay up-to-date on changes that may impact you. Here is a sample of areas you'll be able to access:
For more information, please visit: www.alberta.ca/seniors-financial-assistance.aspx
Indoor & Outdoor Visits, and Community Walks
As we continue to follow all public health measures we want to take the time to remind you of some guidelines that are still in place. Before you visit:
Even the slightest symptom could be COVID-19. Be honest with how you are feeling - if you're questioning a symptom play it safe and stay home.
If you are taking a resident on an outing, please remember to follow all public health measures like restrictions on gathering indoors and that these are not dependent on vaccination status.
Make sure you use all appropriate personal protective equipment (PPE) during your visit and practice physical distancing.
Given the increased risk around eating and drinking – no outside food or beverages are allowed during your indoor visits.
Download our Community Walks/Outings, Indoor, and Outdoor Visit Guides (PDFs) for details and booking hours to ensure a safe and stress-free visit.
Virtual Visits
To ensure residents and family can stay connected, we continue to offer scheduled virtual visits. Residents and families can book one virtual technology session per week. All virtual visits will continue as long as the site is staffed appropriately and care needs are met.
Check out this week's shout-out on our virtual visits below.
To book a virtual visit, contact your AgeCare community: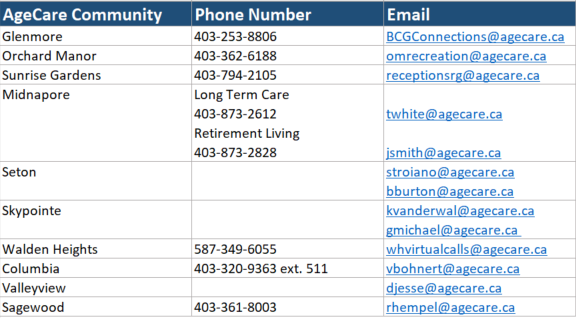 Recreation Programming
Our recreation team is working hard to create engaging activities that enrich the mind, body and spirit while reducing the risk of transmission and having the least impact on resident well-being.
At this time, recreation activities will be held in individual neighbourhoods where possible and in larger spaces. This is to ensure that all participants can maintain physical distancing.
View the May Recreation Calendar for your AgeCare Community:
A Message from the Alberta Continuing Care Association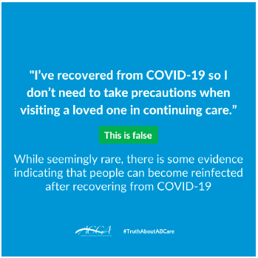 Just as with people who have received their vaccine, those who have previously had COVID-19 are still required to follow all measures put in place to prevent the spread of the virus.
Current information suggests that recovered COVID-19 people can contract and transmit the virus again.
This is why all public health measures must continue to be followed by everyone.
AgeCare is proud to be part of The Alberta Continuing Care Association
Weekly Shout Out
This week we are shouting out our incredible and dedicated AgeCare Employees!
April 26th – 30th is AgeCare Employee Appreciation week, and our communities have been celebrating… you may have noticed the fabulous décor!
It's hard to imagine it's been over a year that COVID-19 has been in our world, and to see our staff continue to show up for residents each day is truly humbling. We are so grateful for the dedication and care our AgeCare employees give each and every day.
Often the unsung heroes of this pandemic, we are so pleased that we could celebrate our employees this week and the inspiring work they do.
Thank you!