Dear Residents and Families,
We remain committed to providing updates to our residents, families, and staff at AgeCare. As such, we are providing weekly updates to keep you all informed on what is happening at our communities and organization-wide.
Vaccine Facts & Fiction – Information on common myths around the COVID-19 vaccine.
Visitation, Outings, Overnight Stays, and Screening – Our new guidelines are now in effect.
Recreation Calendars - Staying active, intellectually stimulated, and socially connected.
Weekly Shout-Out – Celebrate the great work and activities happening at our AgeCare communities.
We hope these weekly updates are helpful. Thank you all for your continued support.
Sincerely,
AgeCare Communications
Vaccine Facts and Fiction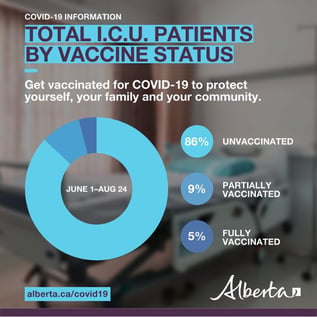 Since December 2020, COVID-19 Vaccinations have been rolling out around the world. While the majority of our residents have now been vaccinated, there is still work to do in ensuring staff like you feel informed and confident to book your first and second vaccination appointments.
Since the COVID-19 vaccine has been approved, the medical community worldwide has been closely monitoring and studying it as more and more people become vaccinated. We wanted to take the opportunity to debunk some popular myths about the vaccine.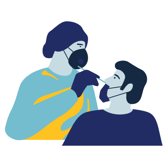 MYTH: The COVID-19 vaccine can make you sick with COVID-19
FACT: None of the approved vaccines (or vaccines in development) contain the live COVID-19 virus.
No live virus means you cannot get COVID-19 from the vaccine. You may have heard of people getting COVID-19 after receiving the vaccine. The COVID-19 vaccine is not a cure. It helps prevent infection but is not a barrier to getting COVID-19. Some vaccinated people are still getting infected, and a subset of these individuals are still getting sick.
In those who contract COVID-19, the vaccine reduces the risks of getting seriously ill from the disease. Some vaccinated individuals experience no symptoms, while others have milder symptoms.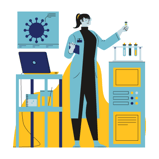 MYTH: The vaccine was developed too quickly – the side effects are still unknown.
FACT: All COVID-19 Vaccines went through the same approval steps all vaccinations must complete.
COVID-19 is a global health crisis, and as such, for one of the first times in history, the entire medical and scientific community were focused on one goal - a safe and effective way to prevent COVID-19.
With safety as a priority, all vaccines go through three basic stages of development:
Exploratory stage
Pre-clinical stage
Clinical stage
On January 11, 2020, the genetic code of the virus that causes COVID-19 was published. This allowed scientists from all over the world to start finding vaccines. Following all of the same approvals and testing all vaccines must pass, safe and effective vaccines began to emerge. Only those proven safe, effective, and of high quality have been approved for use in Canada. Learn more about how the vaccine was made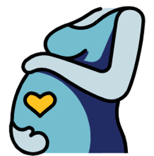 MYTH: The COVID-19 vaccine causes infertility and miscarriages
FACT: Neither the COVID-19 vaccine nor the virus itself has been shown to increase the instances of infertility or miscarriages.
While it is common to exclude pregnant women from all clinical trials, including the COVID-19 vaccine ones, no other viral infection or vaccination-inducing immunity responses, have been shown to cause infertility or miscarriages. With this precedent, there is no scientific reason to believe this would be different with the COVID-19 vaccination.
If you were to contract COVID-19, your immune system would generate the same antibodies and proteins needed to fight off the virus. This is the same thing that happens when your body learns how to fight the virus from a vaccine. If the COVID-19 vaccine affected fertility, we would have already seen a spike in miscarriages and infertility in women infected with COVID-19. Globally, this has not happened. It is now the official recommendation that pregnant women receive their vaccinations as soon as possible. To date, thousands of pregnant women around the world have been vaccinated.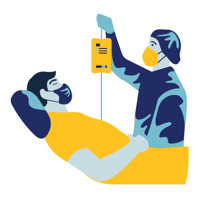 MYTH: There are a lot of side effects and adverse reactions to the vaccine.
FACT: About 0.011% of doses administered in Canada have had a serious adverse effect.
*Over 4.8 billion doses of the COVID-19 vaccine have been administered globally. **In Canada, over 50 million doses have been administered. Of those, only 0.018% reported having an adverse effect, with the most common being soreness and redness at the site of the injection. Of the 50 million doses given to Canadians only 0.006% have reported a serious effect.
**There have been over 1.4 million cases of COVID-19 in Canada, and 26,719 people have died. COVID-19 has killed 2,356 Albertans alone. COVID-19 is more deadly than any risk the vaccine may present.
* source: Global Change Data Lab (Oxford Martin School, University of Oxford), August 18, 2021
**source: Government of Canada Health Infobase, August 18, 2021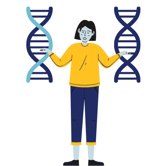 MYTH: The COVID-19 vaccine will alter my DNA
FACT: The Pfizer and Moderna vaccine use mRNA, which does not tamper with DNA.
mRNA vaccines work by teaching your existing cells how to make a protein that triggers the immune response needed to fight off COVID-19. Once your cells learn this, they will break down the mRNA, and it will be gone from your body. Injecting an mRNA vaccine into your body does not interact with or alter the DNA of your cells. Both vaccines have proven to be safe and effective.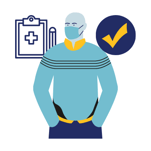 MYTH: I've already had COVID-19 so I don't need the vaccine.
FACT: There is not enough known about COVID-19 to say how long immunity will last after the initial infection.
Studies are still being done to see how long natural immunity lasts after recovering from COVID-19. It is also unknown at this time how someone who was previously infected would react if they were exposed to a variant of concern.
With all of these unknowns, it is the recommendation of Health Canada to receive a vaccine even if you have already had COVID-19.
Visitation, Outings, Overnight Stays, and Screening
Visitation
Visits no longer need to be booked ahead of time. All visitors will continue to be screened upon entry to the building. If your visit occurs outside of reception hours, please submit your screening documents to the nursing station.
All visitors are strongly encouraged to be fully vaccinated with two doses (the second dose received a minimum of two weeks prior).
During your visit, visitors are required to:
Wear a medical mask when in common areas or while travelling around the building.
Maintain physical distancing while in groups.
Practice proper hand hygiene frequently.
Whenever possible, residents residing in shared suites-(semi-private), visits should occur in a designated area or outside. If the visit occurs in a shared suite, the number of visitors may be limited to maintain physical distance from the other residents.
Continue to self-screen for COVID-19 after your visit. Notify AgeCare if any symptoms arise within 14 days of the visit.
Resident Outings, Overnight Stays and Screening
Residents can engage in any activity off-site as they would pre-pandemic. This includes public outings, overnight stays and more. Residents are also no longer required to be screened upon re-entry to the building or required to quarantine if they have gone off-site.
We encourage everyone to continue to follow all public health guidance while off-site.
Rapid Screening
Rapid Antigen Screening (RAS) will continue to be offered to all visitors in our communities. RAS is the best way to prevent COVID-19 from entering our communities.
Click here to view RAS clinic hours
---
Thank you to everyone who has followed our guidelines over the past 18 months – your dedication to keeping our communities safe and COVID-free is very appreciated.
Recreation Programming
Our recreation team is working hard to create engaging activities that enrich the mind, body and spirit. We are continuously looking for ways to reduce the risk of transmission while having the least impact on resident well-being.
Weekly Shout Out
This week we're shouting out some summer fun with AgeCare Seton!
On Fridays, a truck full of cool treats rolls up for residents and staff to indulge in an icy break! It's become a hit will everyone at AgeCare Seton and has become something everyone looks forward to each week.