Dear Residents and Families,
We remain committed to providing updates to our residents, families, and staff at AgeCare. As such, we are providing weekly updates to keep you all informed on what is happening at our communities and organization-wide.
COVID-19 Variants – How we can all work together to prevent a third wave.
The Alberta Continuing Care Association – Let's all do our part to prevent COVID-19 from entering our communities.
Visitation Guidelines – How to stay safe while visiting with your loved ones.
Recreation Calendars - Staying active, intellectually stimulated, and socially connected never ends.
Weekly Shout-Out – Celebrate the great work and activities happening at our AgeCare communities.
We hope these weekly updates helpful. Thank you all for your continued support.
We hope these weekly updates helpful. Thank you all for your continued support.
Sincerely,
AgeCare Communications
COVID-19 Variants of Concern
Over the past few weeks, there has been an alarming upwards trend of not only COVID-19 cases but variant of concern cases. The reason this is so distressing to healthcare professionals is because of how easily these variants can spread. While progress is being made on the vaccination front, the reality is COVID-19 can and will spread faster than any vaccination roll-out if public health guidelines are not followed. The increased spread of COVID-19 variants would result in more illness, hospitalizations, and deaths.
While many of our most vulnerable persons are now vaccinated, it's important to remember that getting COVID-19 is not ideal for anyone, regardless of their age or pre-existing conditions. Recent studies show that 1 in 3 COVID-19 survivors suffer long-term health issues, including organ problems, chronic fatigue and deteriorated mental health.
Protect Yourself and Others
Do not gather indoors.
Wear your mask and consider wearing one when gathering outdoors. Early data suggests the variants of concern spread easier, which means standard social distancing may not be enough.
Get vaccinated as soon as you are eligible.
Chief Medical Officer of Health Dr. Deena Hinshaw has issued a specific order for continuing care facilities in Alberta to navigate and control spread should a variant of concern enter their population. We are committed to following this order if needed and encourage our residents and their family members to learn about the added protections that will come into place should a variant of concern enter one of our communities. QUESTIONS & ANSWERS: Variant of Concern (VOC) Outbreak Protocol for Licensed Supportive Living, Long-Term Care and Hospice Settings
The best way to help prevent a variant of concern entering our communities is by following public health guidelines.
A Message from the Alberta Continuing Care Association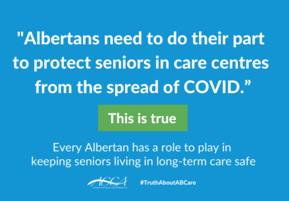 Every Albertan has a role to play in keeping seniors living in long-term care safe. The increase in community transmissions has a direct and devastating impact on virus transmission within seniors' lodges, supportive living and long-term care homes. Providers are doing all that they can to prevent COVID-19 from entering their care centres – including following and exceeding CMOH orders. We need to work together to protect those that are vulnerable
Learn more at albertacontinuingcare.ca
Indoor & Outdoor Visits, and Community Walks
As we continue to follow all public health measures we want to take the time to remind you of some guidelines that are still in place. Before you visit:
Even the slightest symptom could be COVID-19. Be honest with how you are feeling - if you're questioning a symptom play it safe and stay home.
If you are taking a resident on an outing, please remember to follow all public health measures like restrictions on gathering indoors and that these are not dependent on vaccination status.
Make sure you all appropriate personal protective equipment (PPE) during your visit and practice social distancing when you can.
Given the increased risk around eating and drinking – no outside food or beverages are allowed during your indoor visits.
Download our Community Walks/Outings, Indoor, and Outdoor Visit Guides (PDFs) for details and booking hours to ensure a safe and stress-free visit.
Virtual Visits
To ensure residents and family can stay connected, we continue to offer scheduled virtual visits. Residents and families can book one virtual technology session per week. All virtual visits will continue as long as the site is staffed appropriately and care needs are met.
Check out this week's shout-out on our virtual visits below.
To book a virtual visit, contact your AgeCare community: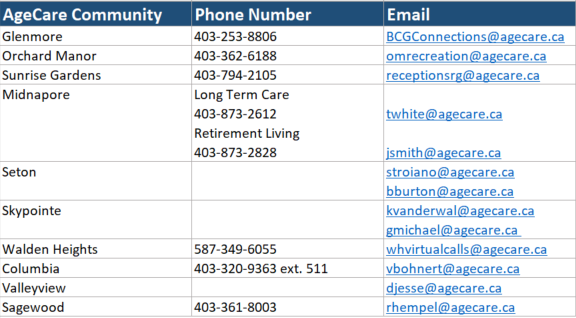 Recreation Programming
Our recreation team is working hard to create engaging activities that enrich the mind, body and spirit while reducing the risk of transmission and having the least impact on resident well-being.
At this time, recreation activities will be held in individual neighbourhoods where possible and in larger spaces. This is to ensure that all participants can maintain physical-distancing.
View the February Recreation Calendar for your AgeCare Community:
Weekly Shout Out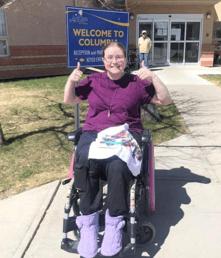 We are excited to share that we have been awarded a grant through the New Horizons for Seniors Program to help fund the Java Music Club!
This peer support and mentoring program has been shown to reduce social isolation, loneliness and depression by engaging residents in providing emotional support for each other. This is incredibly important right now as the COVID-19 pandemic has had a significant impact these areas of mental health.
Over 1,100 senior living organizations across Canada and the US have already implemented the Java Music Program and seen an uptake in volunteerism among residents and increases in overall mental health for participants.
Java groups can be facilitated while respecting COVID-19 guidelines, sanitation and physical distancing requirements.
Over the next 12 months we are excited to roll this program out to our AgeCare communities and share with you the positive impact we know this will have for our residents!