Dear Residents and Families,
We remain committed to providing updates to our residents, families, and staff at AgeCare. As such, we are providing weekly updates to keep you all informed on what is happening at our communities and organization-wide.
COVID-19 Vaccination FAQs – Answering your questions about vaccines.
Rapid Antigen Screening – We encourage ALL visitors, regardless of their vaccination status, to participate in RAS testing.
Visitation, Outings, Overnight Stays, and Screening – Our new guidelines are now in effect.
Recreation Calendars - Staying active, intellectually stimulated, and socially connected.
Weekly Shout-Out – Celebrate the great work and activities happening at our AgeCare communities.
We hope these weekly updates are helpful. Thank you all for your continued support.
Sincerely,
AgeCare Communications
COVID-19 Vaccination FAQs
With our medical system under extreme strain and our intensive care units (ICU) reaching capacity, now more than ever it is critical to protect yourself from serious complications caused by COVID-19. Vaccination continues to be the best way to prepare your body should you get COVID-19.
Q: Vaccinated people are still getting COVID-19. What's the point in getting vaccinated?
A: While partially and fully vaccinated people can get COVID-19 their outcomes are hugely better. Albertans who are not vaccinated are about 15 times more likely to be hospitalized with COVID-19 and are about 40 times more likely to end up in the ICU. The vaccine gives your body the best chance at fighting off COVID-19 should you get it.
Q: The vaccine is too new – I don't think it's safe.
A: While COVID-19 is new, vaccine technology has been used for over 100 years. The vaccines followed all of the same approvals and testing all vaccines must pass. The mRNA vaccines – Pfizer and Moderna - work by teaching your existing cells how to make a protein that triggers the immune response needed to fight off COVID-19. Once your cells learn this, they will break down the mRNA, and it will be gone from your body.
Q: I've had COVID-19 I don't need the vaccine
A: While having had the disease offers some protection against future infection, there's not enough data about that level of protection to know when it tapers off or how protective it is against new variants. We have seen individuals who had COVID-19 get re-infected and become sick. Getting fully immunized offers the best protection possible from the virus.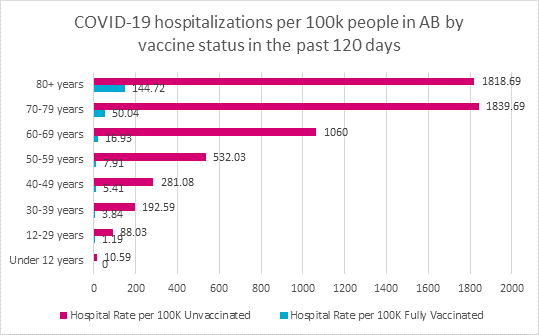 Rapid Antigen Screening
We encourage ALL visitors, regardless of their vaccination status, to participate in RAS testing. Fully vaccinated people with no symptoms can test positive for COVID-19. A rapid test means protecting your family, friends, co-workers and community from the asymptomatic spread.
Remember:
You MUST be asymptomatic to receive a RAS test.

If you have ANY symptoms, you CANNOT visit or come on-site. You must book a lab test through AHS. Learn more
Documentation WILL NOT be provided to prove a negative result. You cannot use a negative RAS test from our communities to participate in the restriction exemption program.
15 minutes to wait for your result may seem like an inconvenience, but if you unknowingly bring COVID-19 on your visit, the whole community
could go into an outbreak.
An outbreak could result in restrictions on future visits.
Visitation, Outings, Overnight Stays, and Screening
Visitation
Please note – communities on outbreak may have different visitation restrictions in effect. Contact your community or sign up for email updates to stay informed on the latest information.
Visits no longer need to be booked ahead of time. All visitors will continue to be screened upon entry to the building. If your visit occurs outside of reception hours, please submit your screening documents to the nursing station.
During your visit, it is STRONGLY recommended that visitors:
Wear a mask when visiting, including in a resident's suite.
Be fully vaccinated with two doses (the second dose received a minimum of two weeks prior).
During your visit, visitors are required to:
Wear a medical mask when in common areas or while travelling around the building.
Maintain physical distancing while in groups.
Practice proper hand hygiene frequently.
Whenever possible, residents residing in shared suites-(semi-private), visits should occur in a designated area or outside. If the visit occurs in a shared suite, the number of visitors may be limited to maintain physical distance from the other residents.
Continue to self-screen for COVID-19 after your visit. Notify AgeCare if any symptoms arise within 14 days of the visit.
Resident Outings, Overnight Stays and Screening
Residents can engage in any activity off-site as they would pre-pandemic. This includes public outings, overnight stays and more. Residents are also no longer required to be screened upon re-entry to the building or required to quarantine if they have gone off-site.
We encourage everyone to continue to follow all public health guidance while off-site.
Recreation Programming
Our recreation team is working hard to create engaging activities that enrich the mind, body and spirit. We are continuously looking for ways to reduce the risk of transmission while having the least impact on resident well-being.
Weekly Shout Out
Did you know we rapid test hundreds of staff and visitors each week at our communities?
Thanks to our incredible rapid antigen screening staff, we're keeping the asymptomatic spread of COVID-19 out of our communities. Next time you stop by for your test before you visit, make sure you say thanks to these incredible teams!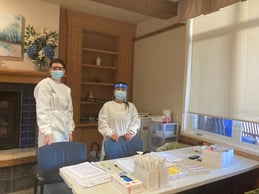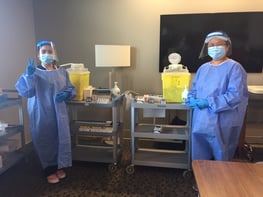 RAS clinics at Midnapore and Seton