Dear Residents and Families,
We remain committed to providing updates to our residents, families, and staff at AgeCare. As such, we are providing weekly updates to keep you all informed on what is happening at our communities and organization-wide.
This weekly update includes:
COVID-19 Vaccination Update – An update on eligibility.
AstraZeneca FAQ – Information about the AstraZeneca / Covishield vaccine.
Visitation

Guidelines

– Information on how to have a safe visit with your Care Centre loved one.
Recreation & Activities - An update on our recreation and activities as the need to stay active, intellectually stimulated, and socially connected never ends.
Weekly Shout Out - Sharing good news stories and gratitude for our residents, staff, and community.
Thank you all for your continued support.
Sincerely,
Cindy Kahlon,
Administrator
Harmony Court Estate & Care Centre
COVID-19 Vaccination Update
Earlier this week, the Government of British Colombia announced that they were dropping the age requirement to receive the AstraZeneca vaccine to 40 years.
Now, anyone born 1981 (or earlier) and with no underlying health conditions can book appointments for the AstraZeneca COVID-19 vaccine at participating pharmacies. Find a pharmacy near you.
Those who have previously met eligibility requirements can continue to book their vaccines. Once you are eligible, you remain eligible.
For the most up-to-date vaccine information visit the Government of BC online
AstraZeneca / Covishield FAQ
Q: Is the AstraZeneca / Covishield vaccine safe?
A: YES. While every adverse reaction is unfortunate, it is important to remember that serious reactions to a vaccine are rare.

Q: Can the AstraZeneca Vaccine give me blood clots?
A: The global frequency of vaccine-induced immune thrombotic thrombocytopenia (VITT) has been estimated at approximately one case in 100,000 to 250,000 doses of vaccine – less than 0.001%. Consider, if you do get COVID-19, your chances of getting a blood clot increase to over 30%. It is safer to get the vaccine than risk getting COVID-19.

Q: What is the difference between AstraZeneca and Pfizer/Moderna?
A: The Pfizer and Moderna vaccines are mRNA vaccines. mRNA vaccines work by teaching your existing cells how to make a protein that triggers the immune response needed to fight off COVID-19. Once your cells learn this, they will break down the mRNA, and it will be gone from your body. Injecting an mRNA vaccine into your body does not interact with or alter the DNA of your cells.

The AstraZeneca/Covishield vaccine does not use mRNA but instead uses a more traditional method (viral vector) of introducing a harmless virus into the body that solicits the same immune response to cause a spike in proteins needed to fight the COVID-19 virus.

With two different approaches to fighting off the COVID-19 virus, people can opt for the vaccine that makes them feel the most comfortable and that is more readily available. All vaccines have proven to be safe and effective.

Q: How effective is the AstraZeneca Vaccine?
A: AstraZeneca has been shown to reduce infection by 60% – 70% and severe outcomes like hospitalization by 80%. The vaccine is widely used in the United Kingdom, France, and other countries.
As provincial cases continue to rise, the chances of you getting COVID-19 and having an adverse outcome is over-taking any slight risk a vaccine may pose.
For more information, visit HealthLink BC
Visitation Guideline - Harmony Court Care Centre
As we continue to follow all public health measures, we want to take the time to remind you of some guidelines that are still in place.
Before you visit: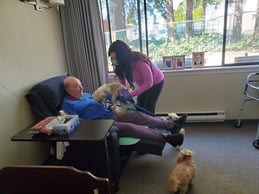 Even the slightest symptom could be COVID-19. Be honest with how you are feeling - if you're questioning a symptom, play it safe and stay home.
If you are taking a resident on an outing, please remember to follow all public health measures like restrictions on gathering indoors. These are not dependent on vaccination status.
Make sure you use all appropriate personal protective equipment (PPE) during your visit and practice physical distancing.
Given the increased risk around eating and drinking – no outside food or beverages are allowed during your indoor visits.
Download our Social, Essential, and Community Outings Visit Guides (PDFs) for details and booking hours to ensure a safe and stress-free visit.
Virtual Visits
As provincial COVID-19 cases continue to rise, we ask that all visitors review and consider their own need to visit their loved ones in person. We encourage friends and family to take advantage of our virtual and window visits.

To book a virtual visit

and window visits

with your loved one, contact hcrecreation@agecare.ca or (604) 527-3328 between 9:30 am to 3:30 pm, Monday to Friday.

Our recreation team is working hard to create engaging activities that enrich the mind, body and spirit. We are taking a measured, phased approach to recreation activities. Each week we will be reassessing how these are going and make any adjustments that may be required.

In both Harmony Court Estate (Independent Living) and the Care Centre (Long Term Care), we are cohorting residents into groups. They may enjoy the activities with the same residents each time. All cohort recreation programs will involve no touching of each other or shared objects.

During all interactions, staff continue to practice exceptional hand hygiene, wear Personal Protection Equipment (PPE), and are using extreme diligence in enhanced cleaning and disinfecting procedures.
Download the Care Centre Programs:
Rosewood Calendar
Wedgewood Calendar
Download the Estate Activity Calendar:
Harmony Court Estate Calendar
Weekly Shout-Out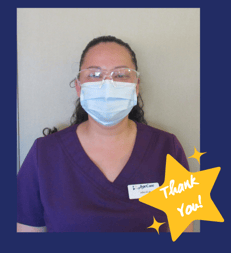 This week we're giving a shout-out to an amazing team member!

Angela has been part of the team for the last two years. She started as a casual and then became such an important team member that she moved to a permanent full-time position on the rosewood unit. She is extremely compassionate with the residents and goes beyond expectations to make their lives better.

She is very positive and always open to new ways to improve her skills and abilities. She is quick to adapt and adheres to new protocols.

Thank you Angela for all your hard work and dedication!