Dear Residents and Families,
We remain committed to providing updates to our residents, families, and staff at AgeCare. As such, we are providing weekly updates to keep you all informed on what is happening at our communities and organization-wide.
We hope these weekly updates helpful. Thank you all for your continued support.
Sincerely,
AgeCare Communications
Vaccination Update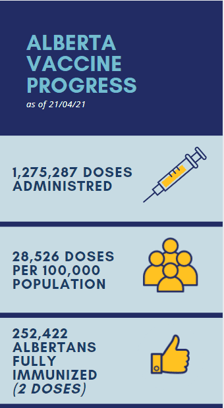 Earlier this week, the Government of Alberta announced that they were dropping the age requirement to receive the AstraZeneca vaccine to 40 years.
Now, anyone born from 1957 to 1981 and with no underlying health conditions can book appointments for the AstraZeneca COVID-19 vaccine at participating pharmacies or with Alberta Health Services (AHS) online or by calling 811.
Please note there is no longer walk-in availability in Calgary at the Telus Convention Centre.
Visit https://www.alberta.ca/covid19-vaccine.aspx to find a walk-in location or book your appointment.
Those who have previously met eligibility requirements can continue to book their vaccines. Once you are eligible, you remain eligible.
AstraZeneca / Covishield FAQ



Q: Is the AstraZeneca / Covishield vaccine safe?
A: YES. While every adverse reaction is unfortunate, it is important to remember that serious reactions to a vaccine are rare.

Q: Can the AstraZeneca Vaccine give me blood clots?
A: The global frequency of vaccine-induced immune thrombotic thrombocytopenia (VITT) has been estimated at approximately one case in 100,000 to 250,000 doses of vaccine – less than 0.001%. Consider, if you do get COVID-19, your chances of getting a blood clot increase to over 30%. It is safer to get the vaccine than risk getting COVID-19.

Q: What is the difference between AstraZeneca and Pfizer/Moderna?
A: The Pfizer and Moderna vaccines are mRNA vaccines. mRNA vaccines work by teaching your existing cells how to make a protein that triggers the immune response needed to fight off COVID-19. Once your cells learn this, they will break down the mRNA, and it will be gone from your body. Injecting an mRNA vaccine into your body does not interact with or alter the DNA of your cells.

The AstraZeneca/Covishield vaccine does not use mRNA but instead uses a more traditional method (viral vector) of introducing a harmless virus into the body that solicits the same immune response to cause a spike in proteins needed to fight the COVID-19 virus.

With two different approaches to fighting off the COVID-19 virus, people can opt for the vaccine that makes them feel the most comfortable and that is more readily available. All vaccines have proven to be safe and effective.

Q: How effective is the AstraZeneca Vaccine?
A: AstraZeneca has been shown to reduce infection by 60% – 70% and severe outcomes like hospitalization by 80%. The vaccine is widely used in the United Kingdom, France, and other countries.

Q: Why did Alberta previously pause the use of AstraZeneca?
A: Out of an abundance of caution, Alberta temporarily paused the use of AstraZeneca for people under the age of 55, as a precautionary measure to further investigate Vaccine-Induced Prothrombotic Immune Thrombocytopenia (VIPIT) - a rare blood clot condition following immunization. Now, satisfied with the data and proven safety and effectiveness, AstraZeneca is once again being offered.

As provincial cases continue to rise, the chances of you getting COVID-19 and having an adverse outcome is over-taking any slight risk a vaccine may pose.

For more information, visit https://www.alberta.ca/covid19-vaccine.aspx

Indoor & Outdoor Visits, and Community Walks
As we continue to follow all public health measures we want to take the time to remind you of some guidelines that are still in place. Before you visit:
Even the slightest symptom could be COVID-19. Be honest with how you are feeling - if you're questioning a symptom play it safe and stay home.
If you are taking a resident on an outing, please remember to follow all public health measures like restrictions on gathering indoors and that these are not dependent on vaccination status.
Make sure you use all appropriate personal protective equipment (PPE) during your visit and practice physical distancing.
Given the increased risk around eating and drinking – no outside food or beverages are allowed during your indoor visits.
Download our Community Walks/Outings, Indoor, and Outdoor Visit Guides (PDFs) for details and booking hours to ensure a safe and stress-free visit.
Virtual Visits
To ensure residents and family can stay connected, we continue to offer scheduled virtual visits. Residents and families can book one virtual technology session per week. All virtual visits will continue as long as the site is staffed appropriately and care needs are met.
Check out this week's shout-out on our virtual visits below.
To book a virtual visit, contact your AgeCare community: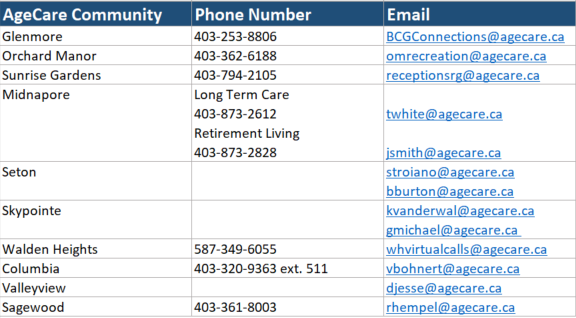 Recreation Programming
Our recreation team is working hard to create engaging activities that enrich the mind, body and spirit while reducing the risk of transmission and having the least impact on resident well-being.
At this time, recreation activities will be held in individual neighbourhoods where possible and in larger spaces. This is to ensure that all participants can maintain physical distancing.
View the February Recreation Calendar for your AgeCare Community:
A Message from the Alberta Continuing Care Association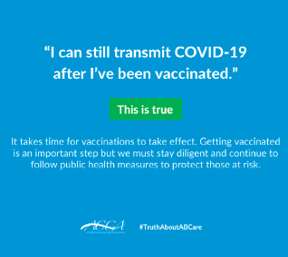 The risks of COVID-19 infection in fully vaccinated people cannot be completely eliminated as long as there is continued community transmission of the virus.

Vaccinated people could potentially still get COVID-19 and spread it to others. This is why it is critical we all continue to follow public health guidance regardless of vaccination status.


AgeCare is proud to be part of The Alberta Continuing Care Association
Weekly Shout Out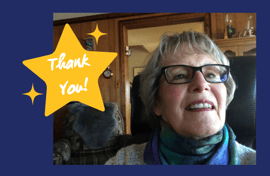 Happy National Volunteer Week to our incredible volunteers! While the COVID-19 pandemic has made it difficult to see you, we are so grateful for the time you choose to share with us.

We would like to send a special thank you to our volunteer Lorraine who figured out how to continue to connect with residents even when she couldn't be there in person.

Lorraine has been volunteering in pastoral care at AgeCare Walden Heights for the past 4 years. Pastoral care is given when residents of the Catholic religion don't have the opportunity to attend mass. Lorraine's role is to bring the Eucharist to residents since they cannot receive it at mass.

Lorraine would often read the gospel of the day with residents and join them in prayer. She enjoyed the wisdom from her conversations with residents and cherished their time together.

Once COVID-19 began, Lorraine couldn't do her regular volunteer work. Undeterred, she started sending pen pal emails to residents twice a week. By doing this, she has grown close to the residents she has written to. Even though Lorraine couldn't bring the Eucharist to residents, she felt that this was a good opportunity to remain in contact with prayer. Along with a short prayer of encouragement, Lorraine would also share a bit of her life by sending residents pictures of animals, flowers, and sunsets at her acreage. With pen pal emails, Lorraine feels that this is a calling from God to residents who might not have much contact with anyone during the pandemic.

Lorraine just hit an incredible milestone of her 100th pen pal letter and is showing no signs of slowing down!

Thank you Lorraine for your dedication to our residents.
Are you interested in becoming an AgeCare Pen Pal?
Join our amazing volunteers like Lorraine by sharing uplifting words, stories, pictures and videos with residents to help brighten spirits. Fill out our Pen Pal volunteer form to get started!