Dear Residents and Families,
We remain committed to providing updates to our residents, families, and staff at AgeCare. As such, we are providing weekly updates to keep you all informed on what is happening at our communities and organization-wide.
Rapid Antigen Screening for Staff – Information about this newly launched screening program for staff
Vaccination Update – Information about Phase 2B, C and D from the Alberta Government
The Alberta Continuing Care Association – Information about our membership in this important organization.
Visitation Guidelines – How to stay safe while visiting with your loved ones.
Recreation Calendars - Staying active, intellectually stimulated, and socially connected never ends.
Weekly Shout-Out – Celebrate the great work and activities happening at our AgeCare communities.
We hope these weekly updates helpful. Thank you all for your continued support.
Sincerely,
AgeCare Communications
Rapid Antigen Screening for Staff
This week, most of our communities began the Rapid Antigen Screening (RAS) program for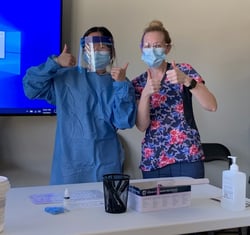 continuing care staff as per the Government of Alberta mandate. Unlike traditional lab Polymerase Chain Reaction (PCR) tests, rapid testing can be done on-site and produce results in as little as 15 minutes.

The goal of introducing Rapid Antigen Screening is to detect asymptomatic COVID-19 positive staff as early as possible. This will lead to less spread throughout our communities.

At this point in time, the program is only intended for asymptomatic staff of continuing care facilities. Furthermore, rapid screening is only available at sites not on outbreak where frequent swabbing is not occurring. Visitors do not qualify for rapid testing and will continue to be screened as usual prior to visits.

We are so proud of the hard work from our AgeCare staff to get this new and important program up and running. There are a lot of moving pieces to coordinate and as usual, our AgeCare staff worked as a team to implement this process that will help keep our communities safe. Thank you to everyone involved and to all the staff who have already been tested.

Vaccination Update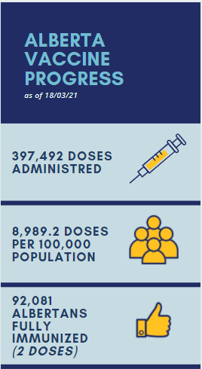 Early this week the Government of Alberta announced the criteria around the next group of Albertans to be vaccinated. Phase 2 of the vaccination roll-out is broken into 4 groups. Group B will begin once Group A has been completed. We are currently nearing the end of Group A. If vaccine supply stays consistent Albertans in Group B could start booking their vaccination appointments by April.

This group are Albertans with underlying health conditions as they are most at risk of severe outcomes.

View the detailed clinical breakdown of these conditions and who is eligible (PDF)


Confirming eligibility
A doctor's or pharmacist's note is not required to get the vaccine. However, you may want to talk to your doctor or pharmacist to help you understand if your condition is on this list.

After Group B will be Phase 2C, the following groups are eligible to receive the vaccine:
Healthcare workers working in patient care facilities or are providing direct patient care in the community, in order to limit spread to high risk individuals, including: physicians, nurses, pharmacists, dentists and all other regulated health care professionals and their office or support staff.

Residents and support staff at eligible congregate living and work settings at risk for large outbreaks, including: correctional facilities, homeless shelters, meatpacking plants, group homes including disability, mental health and other types of licensed supportive living.

Caregivers of Albertans who are most at risk of severe outcomes.


For healthcare workers, this includes:
AHS, Covenant, Alberta Precision Labs and DynaLife staff who work in patient care facilities or provide services directly to clients in the community.

Healthcare workers working in patient care facilities or are providing direct patient care in the community, in order to limit spread to high risk individuals, including: physicians, nurses, pharmacists, dentists and all other regulated health care professionals and their office or support staff.

Healthcare workers on First Nation reserves.

Students undertaking their placement practicums in clinical areas.



For more information visit

https://www.alberta.ca/covid19-vaccine.aspx



The Alberta Continuing Care Association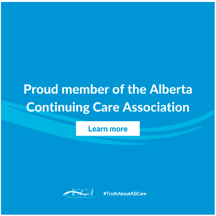 AgeCare is a proud member of the Alberta Continuing Care Association (ACCA). The ACCA is a non-profit, voluntary organization representing the providers of continuing care services in Alberta. They are committed to dispelling myths surrounding continuing care in our province as well as sharing resources and providing information to Albertans.

Over the coming weeks, we will be sharing some of these resources with our residents, families, and staff.
Learn more at albertacontinuingcare.ca
Indoor & Outdoor Visits, and Community Walks
As our vaccination numbers increase, it may be tempting to relax our behaviour when visiting with loved ones. While vaccination is key to returning to our pre-pandemic lives, we aren't there just yet. Please ensure you continue to follow all public health guidance and provincial restrictions while following our visitation guidelines.
Download our Community Walks/Outings, Indoor, and Outdoor Visit Guides (PDFs) for details and booking hours to ensure a safe and stress-free visit.
Virtual Visits
To ensure residents and family can stay connected, we continue to offer scheduled virtual visits. Residents and families can book one virtual technology session per week. All virtual visits will continue as long as the site is staffed appropriately and care needs are met.
Check out this week's shout-out on our virtual visits below.
To book a virtual visit, contact your AgeCare community: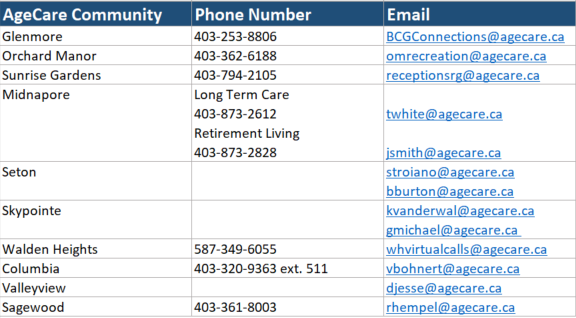 Recreation Programming
Our recreation team is working hard to create engaging activities that enrich the mind, body and spirit while reducing the risk of transmission and having the least impact on resident well-being.
At this time, recreation activities will be held in individual neighbourhoods where possible and in larger spaces. This is to ensure that all participants can maintain physical-distancing.
View the February Recreation Calendar for your AgeCare Community:
Weekly Shout Out
A huge shout-out to our Educators and the graduates of AgeCare Moments.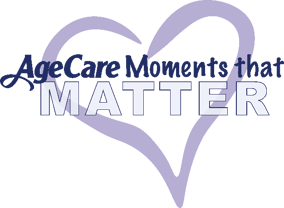 300 staff who care for and support residents living with dementia have graduated from our dementia education program, AgeCare Moments.
This person-centred education is a vital launching point for our dementia strategy. AgeCare Moments is an intensive 5-month program exploring the physiology of dementia, building relationships with our residents and family members, communicating with individuals living with dementia, and ways to create engaging and vibrant communities every day.
We are so proud of the graduates from across the organization, including care, hospitality, support services, and leadership team members. These students showed a real commitment to the program - combining in-class workshops, simulation and experiential learning, neighbourhood huddles, and student workbooks.
Thank you for your commitment to providing high-quality, compassionate care and service to our residents and their families.