Dear Residents and Families,
We remain committed to providing updates to our residents, families, and staff at AgeCare. As such, we are providing weekly updates to keep you all informed on what is happening at our communities and organization-wide.
This weekly update includes:
Staying Safe in Summer – Tips for beating the heat while enjoying the outdoors.
Harmony Court Estate Visitation Guidelines – Information for Independent Living residents and families.
Care Centre Visitation Guidelines – Information on how to have a safe visit with your Care Centre loved one.
Recreation & Activities - An update on our recreation and activities as the need to stay active, intellectually stimulated, and socially connected never ends.
Weekly Shout Out - Sharing good news stories and gratitude for our residents, staff and community.
Thank you all for your continued support.
Sincerely,
Cindy Kahlon,
Administrator
Harmony Court Estate & Care Centre
Staying Safe in the Summer
After a week of heat, it feels like summer is here to stay! Spending time outdoors is not only a great way to enjoy nature, but it's also one of the safest ways to connect with loved ones during COVID-19. But it's not all fun in the sun – hot temperatures can lead to sunburns, exhaustion and dehydration. Here are some tips for staying safe in the summer:

Stay Hydrated: Did you know by the time an older adult feels thirsty, they are likely already experiencing mild dehydration? Stay proactive with your water intake by:
Set a timer on your phone to remember to rehydrate.
Use a large dark-coloured glass – if you notice it, you're more likely to remember to drink!
Try foods that hydrate – berries, watermelon, tomatoes and cucumber are just a few to consider
Dress for the elements:
You wouldn't go out without a toque or mittens in -20, so don't forget to dress for the weather when it's +20!
Choose a sunscreen with broad-spectrum protection and minimum SPF 30: This will protect you from both UV and UVB rays – both of which damage skin. Remember to reapply frequently, especially if you are sweating.
Sunglasses: Your eyes need protection from UV rays too. Look for sunglasses with UV protection.
Clothing: Consider wearing loose and light clothing with good coverage to further protect yourself from the sun. And don't forget a hat!
Plan your visit: Outdoor visits can occur in a variety of places and times. Make sure you are familiar with where you are going ahead of time so you can plan.
Is there shade? Outdoor structures are not always available so consider bringing an umbrella or going elsewhere to get some shade.

Are you near a water station? If you are going to be away from amenities, bring a large water bottle to help you stay hydrated.
Try to avoid being outside between 10 am – 4 pm when the sun is the strongest.
Resident and Family Survey
The 2021 Resident & Family Survey is open! Don't miss the opportunity to tell us about your experience at our AgeCare Communities.
On the survey, you'll find questions about your experience with AgeCare. Your feedback will be completely anonymous and will help us improve the life of someone who truly matters - you or your loved one. . If you are a resident or designated person for a resident, check your inbox for your link to the survey.
Harmony Court Estate Visitation Guidelines
It has been so wonderful to see so many visitors to our communities once again. Thank you to everyone who has booked a visit and followed all of the guidelines – your dedication to keeping our communities safe and COVID-free is very appreciated.
Guidelines to ensure a safe visit
All visits must be booked in advance.

Contact Dana or reception at 604-527-3300 or

hcreception@agecare.ca
Even the slightest symptom could be COVID-19. Be honest with how you are feeling - if you're questioning a symptom, play it safe and stay home
All visitors will be screened before entering the building
Maximum of 2 adults and 1 child per visit
One pet per visit is welcome provided that it is house trained, behaved, leashed, and shows no signs of illness
Use all appropriate personal protective equipment (PPE) during your visit and practice hand hygiene and physical distancing
Given the increased risk around eating and drinking – no outside food or beverages are allowed during your indoor visits.
Indoor Visit - Resident Suites
Timing: Between 8:00 am – 10:30 am and 3:30 pm – 7:00 pm to help with hallway traffic.
Indoor Visit - Glass Atrium
Timing: 1-hour visits to allow for others to enjoy the space.
Outdoor Visit: Front of Building
Timing: 1-hour visits to allow for others to enjoy the space
Additional Note: 1 person per bench unless from the same household.
Harmony Court Care Centre Visitation Guidelines
As we continue to follow all public health measures, we want to take the time to remind you of some guidelines that are still in place.
Download our Social, Essential, and Community Outings Visit Guides (PDFs) for details and booking hours to ensure a safe and stress-free visit.
Virtual Visits
To book a virtual visit

and window visits

with your loved one, contact hcrecreation@agecare.ca or (604) 527-3328 between 9:30 am to 3:30 pm, Monday to Friday.

Our recreation team is working hard to create engaging activities that enrich the mind, body and spirit. We are taking a measured, phased approach to recreation activities. Each week we will be reassessing how these are going and make any adjustments that may be required.

In both Harmony Court Estate (Independent Living) and the Care Centre (Long Term Care), we are cohorting residents into groups. They may enjoy the activities with the same residents each time. All cohort recreation programs will involve no touching of each other or shared objects.

During all interactions, staff continue to practice exceptional hand hygiene, wear Personal Protection Equipment (PPE), and are using extreme diligence in enhanced cleaning and disinfecting procedures.
Download the Care Centre Programs:
Rosewood Calendar
Wedgewood Calendar
Download the Estate Activity Calendar:
Harmony Court Estate Calendar
Weekly Shout-Out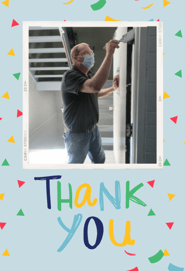 A huge shout out to Tim, our maintenance tech. He is always full of cheer and enthusiasm!

Tim is always willing to jump in and help with anything that needs to be done to keep the facility running smoothly. He is an amazing team member, and we're grateful for all of his hard work. He is a true unsung hero at AgeCare Harmony Court

Thank you Tim for everything you do!