Dear Residents and Families,
We remain committed to providing updates to our residents, families, and staff at AgeCare. As such, we are providing weekly updates to keep you all informed on what is happening at our communities and organization-wide.
Indoor Visits – Guidelines regarding indoor visits.
Resident Outings – Guidelines regarding resident outings with social visits.
Enhancing Engagement – The latest technology helping our residents stay active.
Recreation Calendars - Staying active, intellectually stimulated, and socially connected never ends.
Weekly Shout-Out – Celebrate the great work and activities happening at our AgeCare communities.
We hope these weekly updates helpful. Thank you all for your continued support.
Sincerely,
AgeCare Communications
Indoor Visit Guidelines
In line with the current provincial guidelines, we want to take this opportunity to remind you that at this time, indoor visits are only possible with the two designated support persons. We will continue to follow the Chief Medical Officer's order 29-2020.

We are pleased to share that pets who meet the criteria will be allowed to visit residents indoors. Designated support persons are permitted to bring one pet that is house trained, behaved, leashed, with no signs of illness, that does not come from a household at high risk of exposure to COVID-19 and must inform reception when booking that they are bringing a pet.

Indoor social visits (with non-designated support persons) are not something we can offer at this time. We will review the possibility of this once the no indoor social gathering provincial restrictions are lifted, or we receive new guidance from the Chief Medical Officer.

Social visits with residents can occur outdoors or on community walks.

By following the above guidelines, as well as practicing proper hand hygiene, wearing a mask, and social distancing, you can help protect your loved ones during your visit.

Resident Outings with Social Visits
As more and more people, including our residents, become vaccinated, there may be an urge to relax your behaviour while visiting with your loved ones. While vaccinations are critical to returning to our pre-pandemic lives, we are not out of the woods just yet. We need to continue to follow all CMOH orders and provincial restrictions to ensure everyone's collective safety.

We wish to remind residents and families that the Chief Medical Officer's order 32-2020
provides a guide for accessing the risk of exposure for same-day and overnight resident outings. If you have arranged an outing with your loved one, please know that these will be used to guide decisions at the site collectively.

If you have questions about these safety precautions outlined below, please feel free to discuss this directly with your Care Leadership team prior to the outing.
Overview of the Safety Precautions for Outings *
Depending on the off-site activity, you may be asked to:
increase daily self-checks to two times per day for 14 days;

use a mask in common areas for 14 days; and/or

quarantine for 14 days.
Outing Requirements *
No indoor social gatherings, as per current provincial restrictions.

Except with the designated family/ support persons only.

Maintain physical distance and wear a mask at all times.

Ask your site contact for a suitable mask.

Ensure safe transportation (private vehicle preferred).

Maintain good hand hygiene.

Understand the risk of unknown exposure and safety precautions.

Be screened on re-entry.

Upon returning from an outing, the resident will be screened at the entrance and then proceed to their room. A nurse will be notified and will discuss the exposure risks with the resident and/or designated persons to determine the appropriate safety precautions. Where applicable, additional safety precautions may be required if the resident is returning to a shared, semi-private room.

These collaborative discussions will be guided by the latest CMOH order, including the Risk of Unknown Exposure and the Residents Returning from Same-Day and Overnight Offsite Safety Precautions, as shared below.

Risk of Unknown Exposure (Table 9)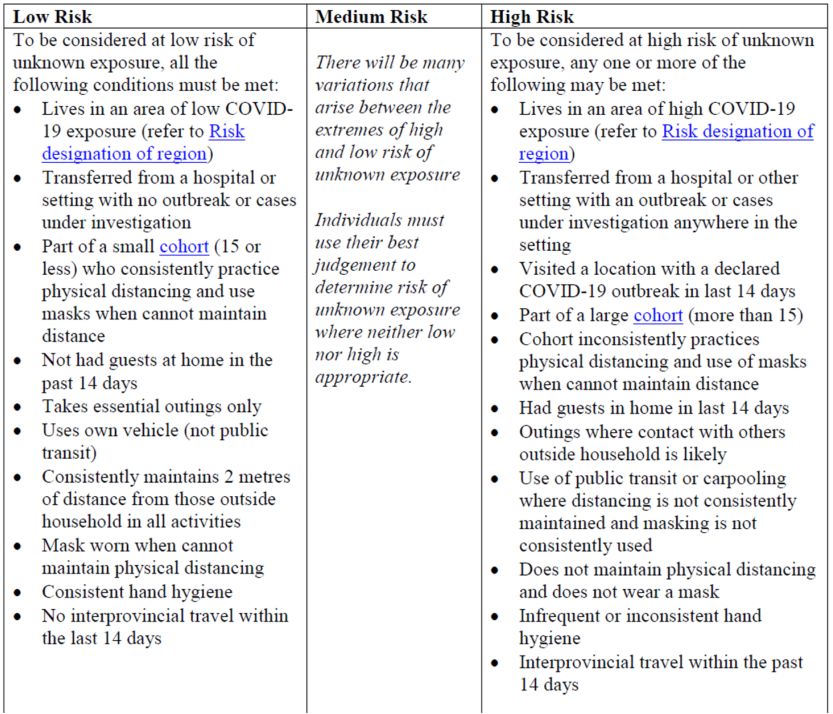 Residents Returning from Same-Day Offsite Activities Safety Precautions (Table 10)
Refer to Table 10 from the CMOH Order 32-2020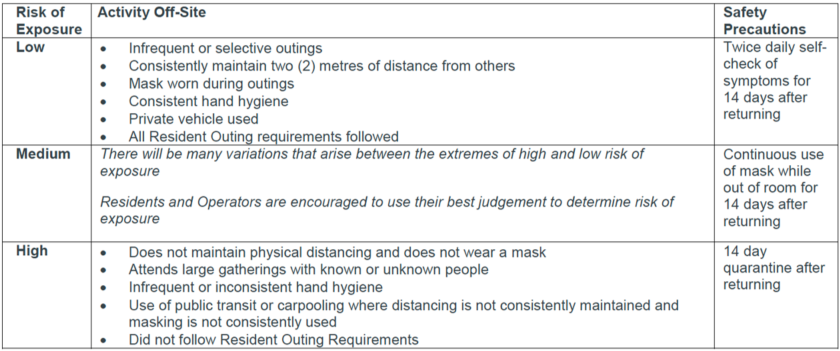 Residents Returning from Overnight Offsite Stays Safety Precautions (Table 11)
Refer to Table 11 from the CMOH Order 32-2020

Virtual Visits
To ensure residents and family can stay connected, we continue to offer scheduled virtual visits. Residents and families can book one virtual technology session per week. All virtual visits will continue as long as the site is staffed appropriately and care needs are met.
Check out this week's shout-out on our virtual visits below.
To book a virtual visit, contact your AgeCare community:
AgeCare Community

Phone Number

Email

Columbia

403-320-9363 ext. 511

Glenmore

403-253-8806

Midnapore

Long Term Care
403-873-2612

Retirement Living
403-873-2828

Orchard Manor

403-362 -6188

Sagewood

403-361-8003

Seton

-

SkyPointe

587-619-6317

Sunrise Gardens

403-794-2105

Valleyview

-

Walden Heights

587-349-6055
Enhancing Resident Engagement - Meet Obie
We are proud to share that thanks to Healthcare Excellence Canada through the Acting on Pandemic Learning Together grant, our AgeCare communities will soon be using Obie Technology.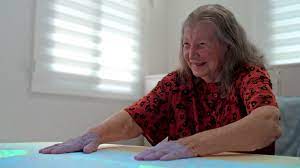 Obie is a gaming console that projects interactive games onto any surface (tables, floors, walls) to encourage active engagement. Research shows that targeted cognitive exercises like those available through Obie, increase overall well-being as well as a significant improvement to motor skills.
Obie was designed by a team of experts and therapists specializing in aging to enhance and strengthen seniors' daily interactions and engagement. Obie will be an excellent tool for our recreation teams as they continue to creatively come up with ways to engage with residents who may be experiencing anxiety, depression and reduced mobility as a result of the pandemic.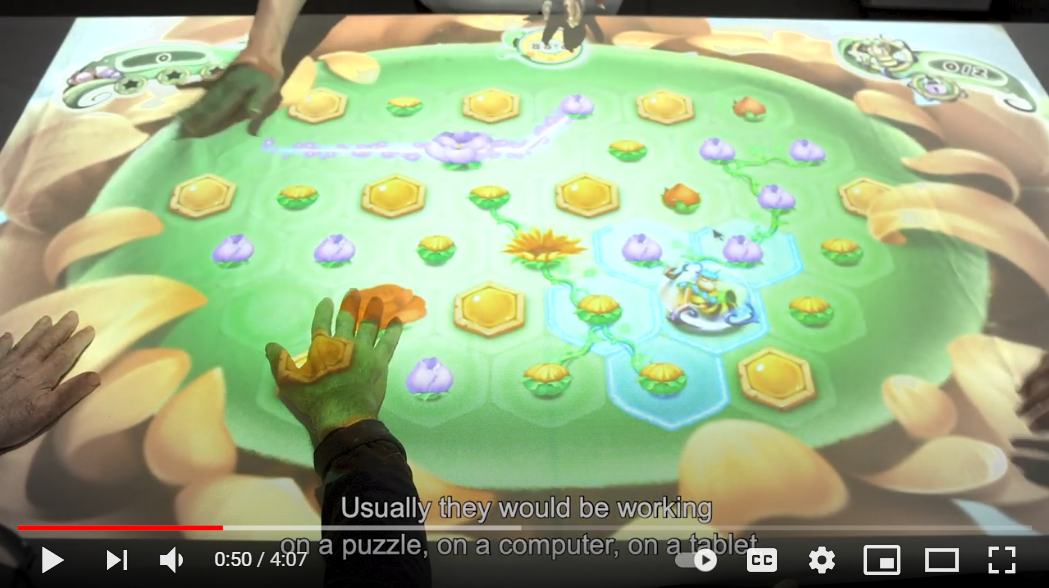 Recreation Programming
Our recreation team is working hard to create engaging activities that enrich the mind, body and spirit while reducing the risk of transmission and having the least impact on resident well-being.
At this time, recreation activities will be held in individual neighbourhoods where possible and in larger spaces. This is to ensure that all participants can maintain physical-distancing.
View the February Recreation Calendar for your AgeCare Community:
Weekly Shout Out
Last week was National Soup it Forward Day and thanks to Gordon Food Service, residents at our Seton and Skypointe communities were able to enjoy a special bowl of soup. March 3rd is known as Soup it Forward Day and encourages us to deliver love and kindness by the bowlful.
Our Chefs were excited to once again commence their Chef visits and serve our residents some delicious soup.
Thank you Gordon Food Service and our incredible hospitality teams for making this fun day possible!