Dear Residents and Families,
We remain committed to providing updates to our residents, families, and staff at AgeCare. As such, we are providing weekly updates to keep you all informed on what is happening at our communities and organization-wide.
Living with a COVID-19 Positive Person – Tips for staying safe if you live with a COVID positive person.
Visitation, Outings, Overnight Stays, and Screening – Our new guidelines are now in effect.
Recreation Calendars - Staying active, intellectually stimulated, and socially connected.
Weekly Shout-Out – Celebrate the great work and activities happening at our AgeCare communities.
We hope these weekly updates are helpful. Thank you all for your continued support.
Sincerely,
AgeCare Communications
Living with a COVID-19 Positive Person
As provincial cases continue to rise, you may find yourself living with someone who has tested positive for COVID-19. Here are some tips to stay safe if you find yourself in this situation:
Protect yourself and others
Monitor yourself for symptoms daily and isolate yourself immediately if you start to feel unwell.

Then, take the online

COVID-19 self-

assessment to

determine whether you should be tested.

Limit your contacts. Avoid unnecessary outings and appointments until Public Health clears the COVID-positive person in your household.
Visitors should not come to your home.
When possible, try to ensure the ill person has their own bathroom and bedroom. Do not share items such as towels, toothbrushes, utensils or electronic devices.
Maintain

physical distance

from the ill individual as much as possible.
If you need to be within 2 metres of the ill person, wear a mask, disposable gloves and

eye protection

.
Do not re-use masks or gloves.
Clean your hands often for at least 20 seconds, especially after contact with the ill person and removing gloves, mask and eye protection.
Keep your environment clean
Wear disposable gloves when touching the ill person, their environment and soiled items or surfaces.
Advise loved ones to cover their coughs and sneezes with their arm, not their hand, and to practice good respiratory etiquette at all times
At least once daily, use household disinfectants or diluted bleach (1 part bleach and 9 parts water) to clean and disinfect surfaces that people often touch (e.g., toilets, laundry containers, bedside tables, doorknobs, phones and television remotes).

Clean touch screens with 70% alcohol wipes.
Visitation, Outings, Overnight Stays, and Screening
Visitation
Visits no longer need to be booked ahead of time. All visitors will continue to be screened upon entry to the building. If your visit occurs outside of reception hours, please submit your screening documents to the nursing station.
All visitors are strongly encouraged to be fully vaccinated with two doses (the second dose received a minimum of two weeks prior).
During your visit, visitors are required to:
Wear a medical mask when in common areas or while travelling around the building.
Maintain physical distancing while in groups.
Practice proper hand hygiene frequently.
Whenever possible, residents residing in shared suites-(semi-private), visits should occur in a designated area or outside. If the visit occurs in a shared suite, the number of visitors may be limited to maintain physical distance from the other residents.
Continue to self-screen for COVID-19 after your visit. Notify AgeCare if any symptoms arise within 14 days of the visit.
Resident Outings, Overnight Stays and Screening
Residents can engage in any activity off-site as they would pre-pandemic. This includes public outings, overnight stays and more. Residents are also no longer required to be screened upon re-entry to the building or required to quarantine if they have gone off-site.
We encourage everyone to continue to follow all public health guidance while off-site.
Rapid Screening
We are proud that since the launch of our Rapid Antigen Screening (RAS) program we have screened thousands of staff and visitors before they enter our communities. We strongly encourage everyone to participate before visiting a loved one. We have increased our RAS clinic hours to accommodate more visitors. Less uncomfortable than a PCR lab swab and as quick as 15 minutes, RAS is the best way to prevent COVID-19 from entering our communities.
Click here to view RAS clinic hours

---
Recreation Programming
Our recreation team is working hard to create engaging activities that enrich the mind, body and spirit. We are continuously looking for ways to reduce the risk of transmission while having the least impact on resident well-being.
Weekly Shout Out
This week we're shouting third doses and the people who make them possible!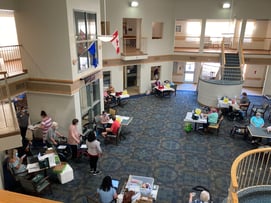 As announced by Alberta Health, third doses of the COVID-19 vaccine will be available for eligible seniors living in congregate care facilities.
Receiving the third dose will boost immunity levels and improve protection for all seniors living in congregate care facilities and individuals with compromised immune systems.
Many of our communities have already had third-dose vaccination clinics, with more scheduled for next week. Thank you to everyone who is helping to make these clinics so successful. From gathering consent to organizing the space, thank you for helping to keep our communities safe!