Dear Residents and Families,
We remain committed to providing updates to our residents, families, and staff at AgeCare. As such, we are providing weekly updates to keep you all informed on what is happening at our communities and organization-wide.
COVID-19 Vaccination Update – Who is now eligible and how to book.
Visitation Guidelines – How to stay safe while visiting with your loved ones.
Recreation Calendars - Staying active, intellectually stimulated, and socially connected
The Alberta Continuing Care Association – A message about vaccine safety in Canada.
Weekly Shout-Out – Celebrate the great work and activities happening at our AgeCare communities.
We hope these weekly updates helpful. Thank you all for your continued support.
Sincerely,
AgeCare Communications
Vaccination Update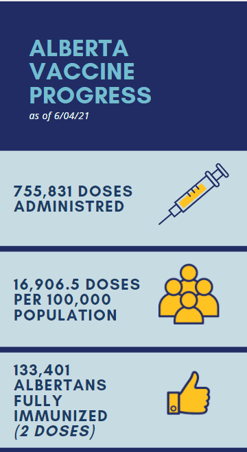 Earlier this week, the Government of Alberta announced that anyone eligible under Phase 2B regardless of their age can now book a vaccination appointment. This means about 500,000 more Albertans are now eligible to be vaccinated.
Now, anyone born in 2005 or earlier with eligible underlying health conditions can book appointments for the COVID-19 vaccine at participating pharmacies or with Alberta Health Services (AHS) online or by calling 811.
View the detailed clinical breakdown of these conditions and who is eligible (PDF)
Confirming eligibility
A doctor's or pharmacist's note is not required to get the vaccine. However, you may want to talk to your doctor or pharmacist to help you understand if your condition is on this list.
AstraZeneca vaccine available for Albertans 55+
Any Albertan born between 1957 and 1966 can now book AstraZeneca appointments at participating pharmacies across the province. AHS will also begin booking appointments starting on Monday, April 12.
The AstraZeneca vaccine is safe and effective at reducing severe illness from COVID-19. The rare blood clots reported in Europe have not been reported in Canada, and the risk of COVID-19 infection and severe outcomes is far greater than any vaccine risk:
Based on current evidence, Albertans who are 55 and older who are diagnosed with COVID-19 are at least 10 times more likely to be admitted to the intensive care unit and at least 45 times more likely to need hospital treatment for COVID-19 than they are to experience any form of the rare, treatable blood clots reported in Europe.
For more information, visit https://www.alberta.ca/covid19-vaccine.aspx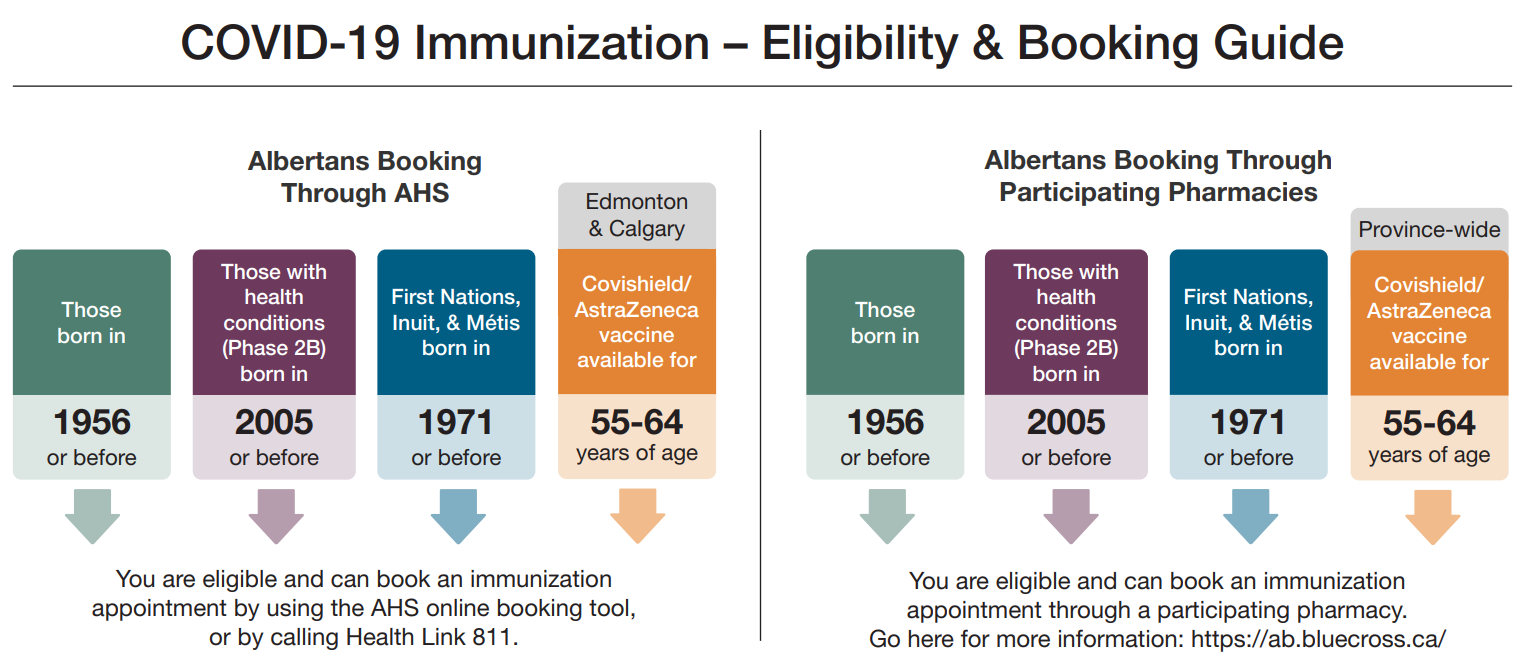 Indoor & Outdoor Visits, and Community Walks
As we continue to follow all public health measures we want to take the time to remind you of some guidelines that are still in place. Before you visit:
Even the slightest symptom could be COVID-19. Be honest with how you are feeling - if you're questioning a symptom play it safe and stay home.
If you are taking a resident on an outing, please remember to follow all public health measures like restrictions on gathering indoors and that these are not dependent on vaccination status.
Make sure you use all appropriate personal protective equipment (PPE) during your visit and practice physical distancing.
Given the increased risk around eating and drinking – no outside food or beverages are allowed during your indoor visits.
Download our Community Walks/Outings, Indoor, and Outdoor Visit Guides (PDFs) for details and booking hours to ensure a safe and stress-free visit.
Virtual Visits
To ensure residents and family can stay connected, we continue to offer scheduled virtual visits. Residents and families can book one virtual technology session per week. All virtual visits will continue as long as the site is staffed appropriately and care needs are met.
Check out this week's shout-out on our virtual visits below.
To book a virtual visit, contact your AgeCare community: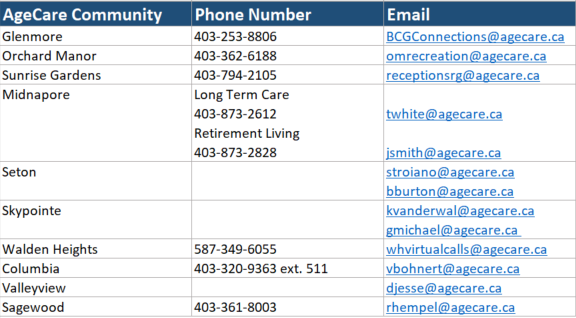 Recreation Programming
Our recreation team is working hard to create engaging activities that enrich the mind, body and spirit while reducing the risk of transmission and having the least impact on resident well-being.
At this time, recreation activities will be held in individual neighbourhoods where possible and in larger spaces. This is to ensure that all participants can maintain physical-distancing.
View the February Recreation Calendar for your AgeCare Community:
A Message from the Alberta Continuing Care Association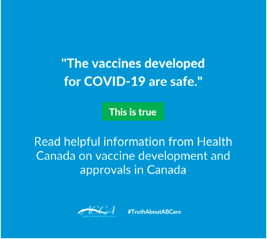 There is a lot of misinformation circulating about the vaccines and the impact of COVID-19 on continuing care. Please turn to trusted sources of information.
Visit The Government of Canada to see many myths dispelled and find reliable information.
AgeCare is proud to be part of The Alberta Continuing Care Association
Weekly Shout Out from AgeCare Walden Heights
Words cannot express how thankful we are at AgeCare Walden Heights for the physicians that assisted our site during the pandemic. Not only were you all patient with the new team members that joined our site, but you took the time to coach and mentor them. You provided compassion and flexibility by understanding the complexity that the site is going through. You picked up the phone and answered the call every time for any question or concern that we had. You truly are part of the Walden family.
The Medical Director, Dr. Paddy Quail, worked closely with the Director of Care to ensure that there was at least one physician coming to the site every single day, as well as providing a shoulder to lean on with his expertise and experience when we needed to work through solutions. Our site visiting physicians include Dr. Michelle Cunningham, Dr. Adam Morawski, Dr. Sarah Makhdoom, Dr. Ayesha Asher, Dr. Saqib Mirza, Dr. Maria Celis, Dr. Kristina Quan, Dr. Graham Hunter, Dr. Susan Mankaeva, Dr. Madeline Spengler, and Dr. Scott Beach.
Lastly, as a token of appreciation, Dr. Michelle Cunningham organized with the other physicians to get a thank you card and gift for the Walden staff that are being distributed this week from the admin/reception area.