Dear Residents and Families,
We remain committed to providing updates to our residents, families, and staff at AgeCare. As such, we are providing weekly updates to keep you all informed on what is happening at our communities and organization-wide.
Updated Visitation Guidelines – Important information and changes to our visitation guidelines.
Vaccine Eligibility Update – Who is now eligible and how to book your appointment.
Recreation Calendars - Staying active, intellectually stimulated, and socially connected.
Weekly Shout-Out – Celebrate the great work and activities happening at our AgeCare communities.
We hope these weekly updates helpful. Thank you all for your continued support.
Sincerely,
AgeCare Communications
Updated Visitation Guidelines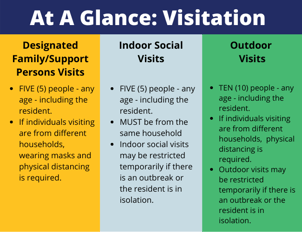 The Government of Alberta releaseda new visitation order for continuing care communities. Using these new guidelines and feedback collected directly from residents, we are pleased to share our new visitation guidelines, which will come into effect this Monday, May 10th.
Download our NEW Guides
Outdoor Visits Guide (pdf)
Remember,
All visitors must understand the risk of unknown exposure for themselves and residents and assess health before visits.
All visits must be booked in advance and during reception hours to ensure staff can provide a health screening.
Visitors must be screened if the visit is inside or you need to enter the building to reach the outdoor visit space.
Rapid Antigen Screening is available for visitors at all sites. All visitors are encouraged to be screened for COVID-19 when possible. View RAS Clinic hours.
Visitors must follow all safe visiting practices and COVID-19 protocols. Visits may be refused if a visitor is not abiding by their responsibilities.
Virtual Visits
To ensure residents and family can stay connected, we continue to offer scheduled virtual visits. Residents and families can book one virtual technology session per week. All virtual visits will continue as long as the site is staffed appropriately and care needs are met.
Check out this week's shout-out on our virtual visits below.
To book a virtual visit, contact your AgeCare community: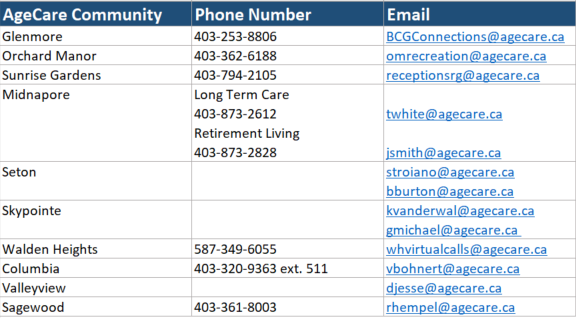 Vaccine Eligibility Update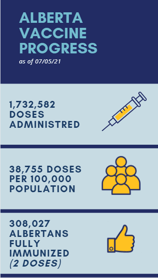 This week, the Government of Alberta announced that all Albertans over the age of 12 can now book and receive their vaccine. Previously it was announced that designated family support persons of residents in continuing care communities are eligible to receive their COVID-19 vaccination. DFSP's were asked to confirm their eligibility with a letter provided by their AgeCare community. If you are eligible under the new age group, you do not need to wait for an eligibility letter to book your vaccination appointment. Everyone should book the soonest available appointment when possible.
The vaccines are safe. They have been given to millions across the globe, and serious adverse side effects have been virtually non-existent. The same cannot be said for those who get COVID-19. From 1 in 3 survivors suffering from long-term health effects to an over-strained medical system, COVID-19 is by far the biggest threat to your health.
And most importantly… the vaccines work. On average, 91 percent of AgeCare residents have received at minimum their first dose of vaccine. Thanks to that incredible coverage and continued adherence to public health guidelines, there have been only two resident positive cases across all 11 AgeCare communities since March 1st.
And provincially hospitalizations of continuing care residents have decreased by 93 percent, and fatalities due to COVID-19 have declined by 94 percent.
This vaccine will protect you, your family, and your community. It is an essential step in ending this devastating pandemic.
Recreation Programming
Our recreation team is working hard to create engaging activities that enrich the mind, body and spirit while reducing the risk of transmission and having the least impact on resident well-being.
At this time, recreation activities will be held in individual neighbourhoods where possible and in larger spaces. This is to ensure that all participants can maintain physical distancing.
View the May Recreation Calendar for your AgeCare Community:
Weekly Shout Out
This week we are shouting out our littlest friends at KidsU!
Recently the children and their care providers stopped by AgeCare Walden Heights for window visits with residents.

The children loved creating posters to show off, and residents were delighted to see all the smiles just outside the windows.

The children may be small, but the joy they brought was HUGE!

Thank you to the KidsU team and the parents for helping to make this uplifting visit possible!