Dear Residents and Families,
We remain committed to providing updates to our residents, families, and staff at AgeCare. As such, we are providing weekly updates to keep you all informed on what is happening at our communities and organization-wide.
Rapid Antigen Testing for Staff – Information on staff rapid testing coming to AgeCare.
Government of Alberta Announcement - Funding boost for continuing care.
Outdoor Visits, Outings, and Community Walks – Information on staying safe while you take advantage of a warm weather visit.
Visitation Guidelines – Access all our visitation guides, including indoor, outdoor, virtual visits, and community walks/outings.
Recreation Calendars - We know the need to stay active, intellectually stimulated, and socially connected never ends.
Weekly Shout-Out – A very special Happy Birthday!
We hope these weekly updates helpful. Thank you all for your continued support.
Sincerely,
AgeCare Communications
Rapid Antigen Testing for Staff
Last month, the Government of Alberta announced that all continuing care facilities not in a COVID-19 outbreak would be required to implement Rapid Antigen Testing for staff. Unlike traditional lab Polymerase Chain Reaction (PCR) tests, rapid testing can be done onsite and produce results in as little as 15 minutes. Many of our communities began mock run-throughs this week before the program will be implemented on March 15th.

The goal of introducing Rapid Antigen Testing is to detect asymptomatic COVID-19 positive staff as early as possible. This will lead to less spread throughout our communities.

As this is a new program we wanted to take the time to answer some questions that you may have.
Q: Who will receive rapid testing?
A: The Alberta Government has mandated that this program is only intended for asymptomatic staff of continuing care facilities. Furthermore, rapid testing is only available at sites not on outbreak where frequent swabbing is not occurring. Visitors do not qualify for rapid testing and will continue to be screened as usual prior to visits.

 
Q: If staff have a negative rapid test will they still wear their usual PPE?
A: YES. As we have seen in practice, the window to COVID-19 to infect can be up to 14 days. All routine and additional PPE is still required. A negative screen does not exempt staff from following public health measures.

Q: Will vaccinated staff still be rapid tested?
A: YES. The vaccination is not 100% effective and studies are still be done on its effectiveness on the variant strains. We will encourage all staff, including those vaccinated, to participate in the screening program.

Q: I've heard rapid tests can give false positives – what will happen when staff test positive?
A: Because rapid testing can produce false positives (showing someone is COVID positive when they are not), any staff who received a positive rapid test will be asked to isolate immediately and book in for a PCR lab test to confirm the results.
Government of Alberta - Great news for continuing care
This week Premier Jason Kenney and Health Minister Tyler Shandro were onsite at AgeCare Seton to make an exciting announcement from the 2021 provincial budget.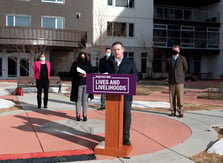 The provincial budget 2021 will allow for more than $500 million in capital spending to create more continuing care spaces. This is on top of the $3.5 billion investment already in place for continuing care in Alberta.

"The Alberta Continuing Care Association welcomes the Alberta government's funding commitment. Over 13,000 Albertans in long-term care and designated supportive living settings receive quality care every day through the independent public, private, faith-based and not-for-profit owners and operators who comprise our association," says Salimah Walji-Shivji, Senior Vice President, Operations and Support Services at AgeCare and chair of the Alberta Continuing Care Association. "We are committed to furthering our partnership with the government to strengthen the capacity to help our residents requiring continuing care."
This new support and funding will: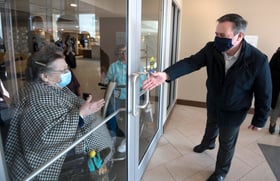 • Continue the shift from hospital to community-based home and hospice care.
• Develop effective caregiver supports to help Albertans in their home and community.
• Support clients to stay in their homes by accessing client-directed funding options.
• Help create new or upgraded continuing care spaces with community, non-profit and independent providers.

To learn more visit the Government of Alberta site
Outdoor Visits, Outings and Community Walks
As March begins to bring warmer weather, the thought of spending time with our loved ones outside becomes more and more appealing. We would like to take this opportunity to remind you about how you can safely share an outdoor visit, outing, or community walk with a resident.

HOW: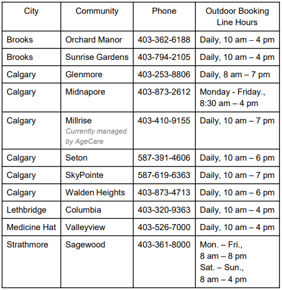 Schedule your visit: We know the weather can change, but it is mandatory that you book your outdoor visit or community walk in advance. Visitors must book at least 24-hours in advance (preferably 48-hours).

WHO:
Outdoor visits and walks can include up to 5 people, including the resident.
Visitors are permitted to bring one pet that is house trained, behaved, leashed, with no signs of illness, that does not come from a household at high risk of exposure to COVID-19 and must inform reception when booking that they are bringing a pet.
Outdoor visits and walks will not be supervised by AgeCare staff or volunteers.
WHEN:
Outdoor visits and walks can occur at any time during reception hours to ensure someone is available to provide a health screening.
Visitors are encouraged to set a standing time each week with reception, in which case they do not need to call beforehand.
WHERE:
Outdoor visits will occur in designated outdoor spaces or around the community.
Designated outdoor spaces will have a maximum capacity to allow for physical distancing, so they must be booked in advance as per the "timing" section above.
Visitors may not come into the building to use the washroom from outdoor visits.
Outdoor visits can only occur in spaces that do not require visitors to walk through our building to access.
Remember,
While we are all excited for the warmer weather, consider what is best for yourself and your loved one. Spring weather brings risks like slipping on ice and general malaise from the elements like wind. Bundling up to go outside can be both exhausting and time-consuming so we encourage you to continue considering virtual visits.

As with all community visits, visitors must understand the risk of unknown exposure to COVID-19 for themselves and residents and asses health before visits.

By following the above guidelines, as well as practicing proper hand hygiene, wearing a mask, and social distancing, you can help protect your loved ones during your visit.


Download our Community Walks/Outings, Indoor, and Outdoor Visit Guides (PDFs) for details and booking hours to ensure a safe and stress-free visit.
Virtual Visits
To ensure residents and family can stay connected, we continue to offer scheduled virtual visits. Residents and families can book one virtual technology session per week. All virtual visits will continue as long as the site is staffed appropriately and care needs are met.
Check out this week's shout-out on our virtual visits below.
To book a virtual visit, contact your AgeCare community:
AgeCare Community

Phone Number

Email

Columbia

403-320-9363 ext. 511

Glenmore

403-253-8806

Midnapore

Long Term Care
403-873-2612

Retirement Living
403-873-2828

Orchard Manor

403-362 -6188

Sagewood

403-361-8003

Seton

-

SkyPointe

587-619-6317

Sunrise Gardens

403-794-2105

Valleyview

-

Walden Heights

587-349-6055
Recreation Programming
Our recreation team is working hard to create engaging activities that enrich the mind, body and spirit while reducing the risk of transmission and having the least impact on resident well-being.
At this time, recreation activities will be held in individual neighbourhoods where possible and in larger spaces. This is to ensure that all participants can maintain physical-distancing.
View the February Recreation Calendar for your AgeCare Community:
Weekly Shout Out
We were so excited to celebrate a very special milestone this week at AgeCare Glenmore as, long-time resident Clarence Hollingworth turned 106!

Following all public health guidelines including being outside, social distancing, hand hygiene, wearing masks and face shields, this was one of Clarence's most unique birthdays yet.

Even with the challenges presented by COVID-19 Clarence's family were able to be there with him and give him their well wishes. The whole event was streamed via Zoom so that friends and family could be part of the big day no matter where they were.

The team at AgeCare Glenmore made sure no party detail was missed. From decorations and gifts, the party went off without a hitch. The Calgary Fire Department even showed up!