Dear Residents and Families,
We remain committed to providing updates to our residents, families, and staff at AgeCare. As such, we are providing weekly updates to keep you all informed on what is happening at our communities and organization-wide. This weekly update includes:
Protect yourself from COVID-19 – Going back to the basics can make a big difference.
National Seniors Day – Capturing the incredible legacy of those around us.
Visitation Guidelines – Guidelines regarding visitation.
Recreation & Activities - An update on our recreation and activities as the need to stay active, intellectually stimulated, and socially connected never ends.
Sincerely,
AgeCare Communications
Protect Yourself from COVID-19
While vaccination is the best way to protect yourself against serious illness from COVID-19, the best-case scenario is one where you don't get COVID-19 at all. As we near 18 months of managing this pandemic, experts agree, it's still the small things that make the biggest difference in protecting yourself from COVID-19.
Masking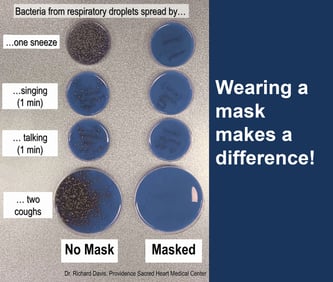 Just how big of a difference does masking make? Recently scientists from all over the globe have been demonstrating this very thing. Take a look at the graphic to see how many respiratory droplets are captured in your mask versus no mask. While masking protects those wearing the mask, masks are best at capturing the virus in people who have COVID-19, both symptomatic and asymptomatic, and stopping it from spreading to others nearby.
When wearing a mask remember:
Wash your hands before and after touching your mask
Make sure the mask fits to cover your nose AND mouth. If you adjust the mask to cover those areas, wash your hands before and after
Wash reusable masks after each use. If the mask is disposable, discard it when visibly soiled or damaged.
Frequent and Correct Hand Hygiene:
Hand hygiene remains one of the easiest ways to stop the spread of COVID-19. When we touch contaminated surfaces and then our faces – even to adjust our masks – we unknowingly put ourselves at risk.
Correct Hand Hygiene includes:
When using soap and water, wash your hand for a minimum of 20 seconds.
Use hand sanitizer with 60% or greater alcohol content.
Wash your hands after using the washroom, before you eat, after contact with another person and after touching high-use surfaces.
Physical Distancing and Gatherings:
Limiting our contacts is one of the best ways to protect yourself against COVID-19. While it's easy to understand the urge to socialize, there are small things you can do to make gatherings safer.
Avoid certain or busier public settings or go during non-peak times. Consider wearing a mask when outdoors if you cannot physically distance yourself from others.
Maintain a physical distance of 6ft between others when in a public area, especially when indoors.
If gathering with others, keep track of who is there so that you can notify if a positive case follows the interaction.
Limit unnecessary travel out of province or country.
Perform regular health checks for yourself to ensure you are not experiencing symptoms.
Recognize when you don't feel well and isolate yourself as necessary.
Get fully vaccinated! Vaccination continues to be our best defence against COVID-19. You can still book your first or second dose – it's never too late! Learn More
National Seniors Day, Capturing their legacy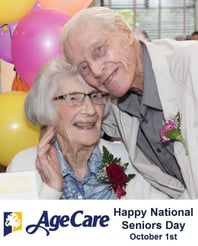 Today, October 1st is National Seniors Day! We can all think of a senior who has made an impact on our lives. They are our mentors, our leaders, our grandparents and our loved ones. They are our volunteers, our neighbours and our role models.
With the pandemic still in our midst, how we stay safely connected continue to look different than they have in the past. However, you might wish to consider capturing some of their legacy by recording them (virtually or in-person) as they recount their days gone by - documenting their stories and capturing them for family, friends and future generations to enjoy. Read more at www.agecare.ca/national-seniors-day-capturing-their-legacy/
Visitation Guidelines
Please note – communities on outbreak may have different visitation restrictions in effect. Contact your community or sign up for email updates to stay informed on the latest information.
Visits no longer need to be booked ahead of time. All visitors will continue to be screened upon entry to the building. If your visit occurs outside of reception hours, please submit your screening documents to the nursing station.
Fully Immunized
Must wear a medical mask in all indoor public/common areas, including to and from the resident's room.
Can remove mask while visiting the resident in their suite.
Not Immunized or Partially Immunized
Must wear a medical mask at all times, including visiting with the resident in their suite or indoor public/common areas.
During your visit, it is STRONGLY recommended that visitors:
Wear a mask when visiting, including in a resident's suite.
Be fully vaccinated with two doses (the second dose received a minimum of two weeks prior).
During your visit, visitors are required to:
Wear a medical mask when in common areas or while travelling around the building.
Maintain physical distancing while in groups.
Practice proper hand hygiene frequently.
Whenever possible, residents residing in shared suites-(semi-private), visits should occur in a designated area or outside. If the visit occurs in a shared suite, the number of visitors may be limited to maintain physical distance from the other residents.
Continue to self-screen for COVID-19 after your visit. Notify AgeCare if any symptoms arise within 14 days of the visit.
Location:
Visits can occur in the resident's suite, designated areas, or outside.
Residents residing in shared suites-(semi-private):

Only visitors for one resident can be in the room at any one time;
Visits for each resident must be staggered in the multi-resident room.
When entering, visitors must be screened and follow ALL safe visiting practices and COVID-19 protocols.

Harmony Court
Time:
To allow for screening, visiting hours are:

Monday through Sunday
9:30 am to 12:00 pm, 1:30 pm to 5:00 pm, and 6:30 pm to 8:00 pm

Estate Visitation Guidelines
There are no additional requirements or restrictions around Estate visitation. We ask that all visitors continue to follow all public health guidance.

Virtual Visits:
We are encouraging in-person visitation when possible. Virtual Visits will still be available, but we ask that they be reserved for those who cannot visit in person. To book a virtual visit and window visits with your loved one, contact hcrecreation@agecare.ca or (604) 527-3328 between 9:30 am to 3:30 pm, Monday to Friday.

Brandt's Creek Mews
Time:
To allow for screening, social visiting hours are:
Monday through Sunday
8:30 am – 5:00 pm

Cariboo Place
Time:
To allow for screening, visiting hours are:
Monday through Sunday
9:00 am – 12:00 pm and 1:00 pm – 5:00 pm

Monashee Mews
Time:
To allow for screening, social visiting hours are:
Monday through Sunday
9:00 am – 5:00 pm

Mount Ida Mews
Information Coming Soon



Please check with your community for full visitation guidelines. Communities on outbreak may have different visitation restrictions in effect. Contact your community or sign up for email updates to stay informed on the latest information.

Recreation & Activities

Our recreation team is working hard to create engaging activities that enrich the mind, body and spirit. We are continuously looking for ways to reduce the risk of transmission while having the least impact on resident well-being.

PLEASE NOTE: At this time, visitors are not permitted to attend indoor recreations programming, including concerts. Thank you for your understanding.

Check out our September Calendars!
Cariboo Place - Coming Soon

Monashee Mews -

Coming Soon
Weekly Shout-Out
AgeCare is committed to honouring those whose territory we work and reside on. As such, we observed the National Day for Truth and Reconciliation yesterday at our communities.
Each community had different ways to honour the day ranging from educational videos to indigenous meals to raising awareness by wearing orange shirts – we are so proud of our incredible teams for creating important moments throughout the day to remind residents and staff of all of the work that still needs to be done as we walk the path of reconciliation.
We are committed to year-round recognition, and you will notice Land Acknowledgements placed near the entrance of all of our communities. This is being done to acknowledge daily the people whose land we work and live on.
Thank you to our wonderful AgeCare residents and staff for using this day to learn and reflect. May we continue to honour and respect our Indigenous neighbours every day.