Dear Residents and Families,
We remain committed to providing updates to our residents, families, and staff at AgeCare. As such, we are providing weekly updates to keep you all informed on what is happening at our communities and organization-wide.
This weekly update includes:
Social Visits – Information on how to have a safe, social visit with your Care Centre loved one.
Recreation & Activities - An update on our recreation and activities as the need to stay active, intellectually stimulated, and socially connected never ends.
Weekly Shout Out - Sharing good news stories and gratitude for our residents, staff and community.
Thank you all for your continued support.
Sincerely,
Cindy Kahlon,
Administrator
Harmony Court Estate & Care Centre
Social Visits ~ Harmony Court Care Centre
As announced last week by the Government of BC, starting today, visitor restrictions for Long-Term Care (LTC) have been adjusted. This change impacts our Care Centre residents.
We currently have visitation availability for this weekend. Our booking line is open on Friday and Saturday this week:
Friday 8:30 am and 3:30 pm: Call Julie at (604) 527-3314
Saturday 10:00 am and 4:00 pm: Call Jessica at (604) 527-3328
As we begin to ease our way into visitation, we wanted to take this opportunity to review some guidelines to ensure a safe visit.

HOW:
Schedule your visit:

All social visits must be booked in advance. Visitors must book at least 24-hours in advance (preferably 48-hours).
WHO:
Social visits can include up to 2 adults plus one child.

Social visits will not be supervised by AgeCare staff or volunteers.
WHEN:
To ensure someone is available to provide a health screening, social visits can occur daily between:

10:30 am -11:30 am
1:30 pm - 2:30 pm
6:30 pm - 7:30 pm
WHERE:
Visits can occur in the resident's suite.

Outdoor visits MUST align with current Provincial Health Officer (PHO) guidance for gatherings in public.
SCREENING PROCESS:
All visitors must understand the

risk of unknown exposure

for themselves and residents and assess health before visits (see page 2).

Confirm you have reviewed the education materials on physical distancing, masks, and hand hygiene. If this has not been completed, you will need to review this prior to your visit.
When entering, visitors must be screened and follow ALL safe visiting practices and COVID-19 protocols.
Visitors must notify AgeCare if any symptoms arise within 14 days of visit.
Entry may be refused if an individual is not abiding by responsibilities.
Risk of transmission increases with physical touch. Visitors must practice safe physical touch, wearing masks and after hand hygiene. Stop contact and inform staff if you become symptomatic.
As provincial COVID-19 cases continue to rise, we ask that all visitors review and consider their own need to visit their loved ones in person. We encourage friends and family to take advantage of our virtual and window visits.
We would like to remind families that COVID-19 has a very long window to develop symptoms – this is part of the reason stopping its spread has been so difficult. Consider the following: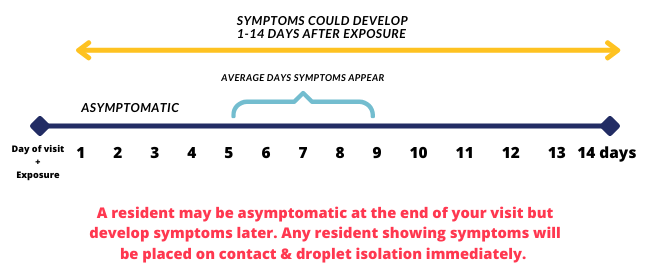 By following the above guidelines, as well as practicing proper hand hygiene, wearing a mask, and social distancing, you can help protect your loved ones during your visit.
Recreation & Activities
Our recreation team is working hard to create engaging activities that enrich the mind, body and spirit. We are taking a measured, phased approach to recreation activities. Each week we will be reassessing how these are going and make any adjustments that may be required.
In both Harmony Court Estate (Independent Living) and the Care Centre (Long Term Care), we are cohorting residents into groups. They may enjoy the activities with the same residents each time. All cohort recreation programs will involve no touching of each other or shared objects.
During all interactions, staff continue to practice exceptional hand hygiene, wear Personal Protection Equipment (PPE), and are using extreme diligence in enhanced cleaning and disinfecting procedures.
Download the Care Centre Weekly Programs:
Download the Estate Activity Calendar:
Weekly Shout-Out
As so many of us have learned throughout the COVID-19 pandemic, when a community goes into an outbreak, a diligent, consistent process is required to resolve the outbreak. Evaluation or an "Audit" of protocols like cleaning and PPE compliance is a key component in overcoming an outbreak. As our AgeCare Skypointe team in Alberta realized there is always room for creativity in the process!

The team at AgeCare Skypointe established a creative way to not only motivate staff but also lift the entire communities' spirits. Knowing that everyone enjoys some healthy competition, the idea for the Infection, Protection, and Control (IP&C) Olympics was born. The Olympics represent unity and togetherness in the pursuit of excellence – what theme could be better for beating an outbreak?

The Olympics kicked off with an opening ceremony including mock torch lighting - the torch would then remain lit on the IP&C bulletin board throughout the competition. Each neighbourhood/department was assigned a "country" and each participant was an Olympian. Countries were eligible to complete three audits per day to qualify for weekly points. Olympians completing audits were Olympic Champions and would receive a certificate, a health and safety lapel pin, and a small prize.

As the Olympians completed their audits, they were provided with feedback and action plans to further improve their scores. The audits engaged everyone in a conversation about health and safety - creating an overall awareness and knowledge for the community.