Dear Residents and Families,
We remain committed to providing updates to our residents, families, and staff at AgeCare. As such, we are providing weekly updates to keep you all informed on what is happening at our communities and organization-wide.
COVID-19 Third Wave – We must all act now to reduce the risk of a third wave.
Visitation Guidelines – How to stay safe while visiting with your loved ones.
Recreation Calendars - Staying active, intellectually stimulated, and socially connected
The Alberta Continuing Care Association – Let's all do our part to prevent COVID-19 from entering our communities.
Weekly Shout-Out – Celebrate the great work and activities happening at our AgeCare communities.
We hope these weekly updates helpful. Thank you all for your continued support.
Sincerely,
AgeCare Communications
COVID-19 Third Wave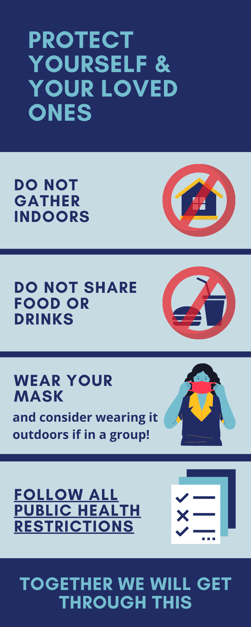 As previously shared, over the past few weeks, there has been an alarming upwards trend of not only COVID-19 cases but variants of concern cases. This third wave has already been called "completely out of control" in Ontario with hospitalization more than 20% higher than at the start of the pandemic.
If we do not re-evaluate our behaviour and do everything in our power to reduce risk, Alberta will very soon be sharing that fate.
With a long weekend, warm weather and school on break – this weekend is critical in determining how we will all fare in this third wave.
Before a resident leaves a community, discuss your plans with Care Leadership so that a risk assessment and plan may be created. Depending on this risk assessment, a resident may be required to continuously mask while out of their room or isolate for the required 14 days.
Please note, all public health guidelines must be followed regardless of a resident's vaccination status.
Upon returning from an outing, a resident will be screened at the entrance and then proceed to their room. A nurse will be notified and will discuss the exposure risks with the resident and/or designated persons to determine the appropriate safety precautions.
Where applicable, additional safety precautions may be required if the resident is returning to a shared, semi-private room.
These shared safety precautions plans will be guided by the CMOH order 32-2020, including the:
Indoor & Outdoor Visits, and Community Walks
As we continue to follow all public health measures we want to take the time to remind you of some guidelines that are still in place. Before you visit:
Even the slightest symptom could be COVID-19. Be honest with how you are feeling - if you're questioning a symptom play it safe and stay home.
If you are taking a resident on an outing, please remember to follow all public health measures like restrictions on gathering indoors and that these are not dependent on vaccination status.
Make sure you use all appropriate personal protective equipment (PPE) during your visit and practice physical distancing.
Given the increased risk around eating and drinking – no outside food or beverages are allowed during your indoor visits.
Download our Community Walks/Outings, Indoor, and Outdoor Visit Guides (PDFs) for details and booking hours to ensure a safe and stress-free visit.
Virtual Visits
To ensure residents and family can stay connected, we continue to offer scheduled virtual visits. Residents and families can book one virtual technology session per week. All virtual visits will continue as long as the site is staffed appropriately and care needs are met.
Check out this week's shout-out on our virtual visits below.
To book a virtual visit, contact your AgeCare community: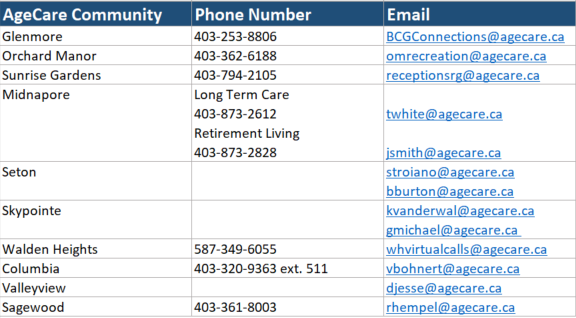 Recreation Programming
Our recreation team is working hard to create engaging activities that enrich the mind, body and spirit while reducing the risk of transmission and having the least impact on resident well-being.
At this time, recreation activities will be held in individual neighbourhoods where possible and in larger spaces. This is to ensure that all participants can maintain physical-distancing.
View the February Recreation Calendar for your AgeCare Community:
A Message from the Alberta Continuing Care Association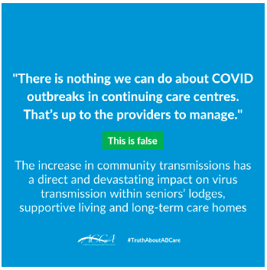 The increase in community transmissions has a direct and devastating impact on virus transmission within seniors' lodges, supportive living and long-term care homes. Providers are doing all that they can to prevent COVID-19 from entering their care homes – including following and exceeding CMOH orders. Every Albertan has a role to play in keeping seniors living in long-term care safe.
AgeCare is proud to be part of The Alberta Continuing Care Association
Weekly Shout Out
As so many of us have learned throughout the COVID-19 pandemic, when a community goes into an outbreak, a diligent, consistent process is required to resolve the outbreak. Evaluation or an "Audit" of protocols like cleaning and PPE compliance is a key component in overcoming an outbreak. As our Skypointe team realized there is always room for creativity in the process!
The team at AgeCare Skypointe established a creative way to not only motivate staff but also lift the entire communities' spirits. Knowing that everyone enjoys some healthy competition, the idea for the Infection, Protection, and Control (IP&C) Olympics was born. The Olympics represent unity and togetherness in the pursuit of excellence – what theme could be better for beating an outbreak?
The Olympics kicked off with an opening ceremony including mock torch lighting - the torch would then remain lit on the IP&C bulletin board throughout the competition. Each neighbourhood/department was assigned a "country" and each participant was an Olympian. Countries were eligible to complete three audits per day to qualify for weekly points. Olympians completing audits were Olympic Champions and would receive a certificate, a health and safety lapel pin, and a small prize.
As the Olympians completed their audits, they were provided with feedback and action plans to further improve their scores. The audits engaged everyone in a conversation about health and safety - creating an overall awareness and knowledge for the community.